THE RETURN OF ATIKU, UNTOLD STORY OF EX-VICE PRESIDENT'S PDP COME-BACK BID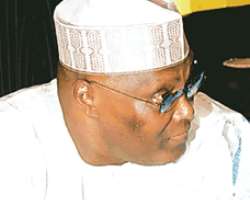 Atiku
It is no longer news that former Vice President, Alhaji Atiku Abubakar, has dumped the party that gave him succour in 2007, the Action Congress (AC) and will soon return to the PDP. His followers are just waiting for him to fix a date for formal return to the Peoples Democratic Party (PDP). The fact that those who call the shots in Adamawa PDP are feigning ignorance of the former number two citizen's return does not reduce the implication of the action.
In recent times, Atiku has been under intense pressure from his political family to understand that they feel more at home in the PDP and would therefore, want him to return to the political party. Also, they told him that that his political clout would only be boosted in PDP. It was gathered that it is difficult for Atiku to sustain his political family at this crucial period when elections are coming and therefore, there was the need to be in a party where he could influence one or two things and actually put some people in power.
Speaking with Saturday Sun recently, Atiku's running mate for the 2007 presidential election, Senator Ben Obi, confirmed the pressure on Atiku from his followers.
He had said: 'We haven't left, but we are under pressure from members of Atiku political family, so to speak, to kind of decide whether the movement would go back to PDP or not. That consultation is also going on. It is a public knowledge that we are discussing with PDP. It is in the media; so it isn't any secret that a meeting took place and that's what members are calling for: that Atiku should go back to PDP. I think, members are free to express their opinion and a decision would be taken on that.'
Atiku as Obasanjo's Guinea pig
It is believed that the former vice president is returning to the PDP in furtherance of his presidential ambition. However, sources said that unknown to Atiku his ambition would work for his former boss, Chief Olusegun Obasanjo, who wants to divide the North, so that his anointed political godson, Dr. Goodluck Jonathan, will easily snatch the PDP ticket.
Obasanjo reckons that Atiku would get the support of some serving and former PDP governors from the North. He also believes that General Ibrahim Babangida and General Aliyu Gusau, who are interested in becoming president, would equally get the support of some northern governors. In such scenario, the votes of the North would be divided among Atiku, Babangida and Gusau and therefore none of them would stand a chance against Jonathan, who would have a block South support.
The source said: 'With the former military president, Ibrahim Babangida and the National Security Adviser, Aliyu Gusau as likely contenders, Obasanjo wants to use Atiku to polarize their camps in the North, after which he will dump the former vice president and shop for another candidate, which may be Jonathan or a dark horse from the North.'
Trouble at the home front
Even as Atiku's loyalist are excited over their leader's resolve to return to his natural habitat, the PDP, there is problem at the home front. Feelers from Adamawa reveal that the former vice president has not tested the political waters at home before making his intention public. At present, leaders of the party in the state continue to deny Atiku. During the week the state governor of Adamawa, Murtala Nyako, through his media aide, told newsmen that the state government was not aware of the former vice president's possible return to PDP.
Besides the state governor, Atiku may have to reach out to Senator Jubril Aminu and sort out political differences. While Atiku was having his political problems, Obasanjo used Aminu to deregister the former vice president and the then governor Boni Haruna.
However, the national secretariat of the PDP is keeping mum over Atiku's return. Efforts to speak with the party's national publicity secretary, Professor Ahmed Alkali proved abortive. However, investigation reveals that the PDP national secretariat has decided not to say anything about Atiku's return until all the issues are sorted out, especially as Jonathan is believed to be interested in it.
'While those in Adamawa continue to deceive themselves, you will recall that the same Atiku was at the presidential villa last week to meet with the Acting President, Dr Goodluck Jonathan. What message do you get from that? It means we have to be circumspect here,' a source at PDP national secretariat told Saturday Sun.
Atiku confounds all
While Atiku's sympathisers see nothing wrong with the former vice president's prevarications, others simply view it as political harlotry. While Atiku was negotiating with PDP, on possible return, he was also neck deep in the mega party discussion, with former Sokoto State governor, Atahiru Bafarawa's Democratic Peoples Party (DPP) and Muhammadu Buhari's Congress for Progressive Change (CPC).
Asked by Saturday Sun to comment on Atiku's return to PDP, Sule Hamman, a loyalists of Buhari, who is involved in the Nigerian Democratic Movement arrangement, expressed no consternation. He told Saturday Sun that Atiku has only returned to the platform where he could find ideological compatibility.
He said: 'What we have really gathered here to do is to create a basis for ideologically compatible parties and leaders to come together and create a common platform and redefine political competition in Nigeria on the basis of ideological pursuit.
'If Atiku decides to go to PDP, because ideologically, he is more at home with PDP, I don't think anybody should begrudge him. I think we should be happy that people are beginning to identify their ideological home, so that competition will then become ideologically premised.'
AC reacts
While the PDP national secretariat would not comment on Atiku's return, the national leadership of the AC says it is not aware that its presidential candidate in 2007 wants to jump ship. National Chairman of the AC, Chief Bisi Akande, told Saturday Sun : 'I am not aware that Atiku is returning to PDP. I haven't got his letter of resignation from AC. Until I get that, it is still a rumour.'
Atiku at PDP secretariat
Atiku eventually visited the PDP national secretariat on Wednesday to confer with National Chairman of the party, Chief Vincent Ogbulafor and other members of the National Working Committee.
He had told journalists he visited to inform the party leadership of his intention to return to the party.
'It is my party. So, I am back. I came to inform him (Ogbulafor) formally that I have returned to the party since last week,' Atiku said.