Andy Uba, Ribadu To Make Jonathan's Special Adviser List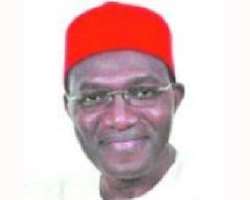 Former special adviser to the erstwhile president, Chief Olusegun Obasanjo, Chief Andy Uba and the immediate past Chairman of the Economic and Financial Crime Commission, EFCC, Mallam Nuhu Ribadu are set to be made Special Advisers to Acting President Goodluck Jonathan.

Jonathan had shortly on assumption of office as Acting President requested and got the nod of the Senate to appoint five Special Advisers.
Uba who was shut out from the Yar'Adua government made a surprise appearance at the presidential villa last Wednesday according to a source. The millionaire Anambra born international business man was said to have spotted a cream safari suit and waved intermittently as he greeted everyone around before making straight for the presidential banquet hall.
Our correspondent learnt that Uba was one of the aides former President Obasanjo wanted Yar'Adua to retain in his cabinet "for strategic reason" but was rebuffed by Yar'Adua. This was said to have angered Obasanjo.
Though it is not clear if Uba has returned to the PDP after contesting the governorship position of Anambra state on the platform of Labour Party, his appointment many say may be geared towards the GNU arrangement initiated by the Yar'sdua government.
On the other hand, Ribadu was one of Obasanjo's men who he (Obasanjo) wished that President Yar'Adua would also have retained, but he was not only disappointed when Ribadu was pushed out as the chairman of the Economic and Financial Crime Commission but also disgraced out of the Police Force.
With the popularity continuously being garnered by the acting president, it would not be surprising if the rumoured appointment of Ribadu as a special adviser would be a move that would help Jonathan contest in the 2011 presidential election.
Ribadu it was reported a week ago had confirmed that he hopes to return to the country very soon with the conferment of acting president position on Dr Jonathan. The corruption czar has been in self exile since he was forcefully removed from the commission in 2007.
Ukpakareports.com was however unable to confirm who the other three Special Advisers would be. But sources said that once the acting president returns from his visit to the US, he would start compiling the list of the SAs.
|
Article source