2011: ABIA COMMUNITY ACCUSES LEADERS OF MARGINALISATION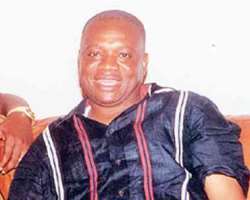 former Governor of Abia State,
The Ukwa/Ngwa community in Abia State has faulted the continued marginalisation of its people in the politics of the state, saying the time has come for its people to produce the next governor in 2011.
In a statement made available on Thursday by the National Coordinator of Ukwa Ngwa Assembly, Mr. Tony Nwabeke, the group reminded the stakeholders that three governors from other parts of the state; Dr. Ogbonnaya Onu, Chief Orji Kalu, and incumbent Governor Theodore Orji, had ruled the state since its creation in 1991.
But the group stated that from 1999 to 2007 when Kalu, whom it stated hails from Igbere in Bende province area of the state, served as governor, his three deputies, Senator Enyinnaya Abaribe, Dr. Chima Nwafor and Chief Acho Nwakanma were from Ngwa.
The community said, 'Out of all the deputies of Kalu who are prominent sons of Ngwa, Orji did not find any of them worthy enough to take over from him. What he did was to look for another man from Bende province to hand over to as the Ngwa were schemed out.
'This made it possible for one side of the state to be producing the governor of Abia State. When he produced Orji, he made another Ngwa man his deputy.
'It is unfortunate that all Ngwa have been reduced to a second fiddle in the politics of Abia State.'
The group, said that Abia State which has 17 local government areas with Ukwa/ Ngwa comprising nine and Bende province consisting of eight, it wondered why the Ngwa could not produce a governor, considering the fact that it had the largest population than any other group in the state.
It further accused the present administration of marginalising the community like its predecessor, alleging that it had neglected the area as if it did not exist or have a stake in the state.
The community, however, demanded that it should be its turn to govern the state in 2011 if fairness was to be observed, saying that it could no longer accept the marginalisation.