Hadiza El-Rufai demand urgent actions in reducing the rising case of malnutrition among Nigerian children.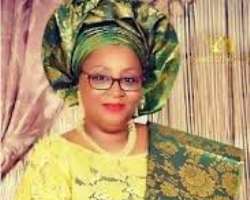 The Wife of the KADUNA State Governor,Mrs Hadiza El-Rufai has said that urgent and Appropriate actions must be taken to drastically reduce the rising profile of malnutrition among children in the State.
The Governor's wife pointed out that recent surveys show that in KADUNA State, 57% of children are malnourished and 41.7% of them are severely stunted, stating also that malnutrition has also affected women significantly as 6.2% of our women in Kaduna state are malnourished and 23.4% have deficiency in iron. Hadiza El-Rufai,who disclosed this in Kaduna, at a stakeholders sensitization meeting on Nutrition,maintained that due to its special passion for health and children, the current administration in that State had within the few months of inception released over N200 million to improve coverage of Routine Immunization and to double the number of secondary facilities (General Hospitals) providing rehabilitation of severe acutely malnourished children (from 6-12) respectively.
She disclosed that the state has recently recruited 19 nutritionists to serve in the General Hospitals, this is as she also noted that there are plans to have nutritionists not only in Secondary Health care facilities but in the selected 255 Ward Health Centres (PHCC). This, she said, will enable the state to have robust nutrition surveillance, i.e. from the communities to Ward Health Centres and to General Hospitals where necessary.
"The aim is to detect malnutrition cases very early and take appropriate action. Fortunately we have community structures that can be equally used for nutrition surveillance. Nutrition would also be integrated into some community and facility-based interventions in the state."
Earlier, Prof. Ngozi Nnam in her address said that in order to arrest the high indices of cases of children with stunted growth, government at all levels especially in Kaduna state has to implement the National Strategic Plan of Action for Nutrition (NSPAN 2014-2019) at every level, with emphasis on maternal and child nutrition.
She noted that Nigerian Government with support from donor agencies has implemented new policies and initiatives, culminating in the development of National Strategic Plan of Action for Nutrition (NSPAN) 2014 -2019 which sets out nutrition-specific and nutrition-sensitive interventions, with measurable targets to be achieved by 2019.
Prof. Ngozi Nnam, who is also the Chairman Steering Committee
Civil Society Scaling-up Nutrition in Nigeria, pointed out that malnutrition and nutrition-related diseases, continue to be problems of public health importance in Kaduna state with the under-five mortality rate unacceptably high at 169 per 1,000 live births, this is even as she said that poor nutrition in the first 1,000 days of a child's life can also lead to stunted growth.
"The main indicator for malnutrition is stunting- when children are too short for their age. Stunted children have poor physical growth which is irreversible and associated with poor brain development and reduced school and work performance".
Prof Nnam also disclosed that In Kaduna State, the Nigeria Demographic and Health Survey (NDHS) Results of 2013, reported prevalence of stunting at 56.6%, underweight 57.6%, and Wasting 42% in children under five years old.
She therefore stated that with 56.6% of stunting, Kaduna has the third highest number of stunted children under 5 years of age in Nigeria after Kebbi with 61% and Katsina and Jigawa with 59% respectively.