Excitement As 11th PH Int'l Trade Fair Gets Set To Kick Off From 4th – 17th December, 2015 With 'Low Prices, New Outlook'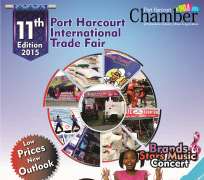 Port Harcourt International Trade fair is once again by the corner, starting from December 4th to 17th 2015. For this year's edition the slogan is Low Prices, new Outlook!! The garden city as Port Harcourt is popularly referred will come alive again as the trade destination trending. Exhibitors from all over the world will converge at the biggest trade fair event south of the country as it takes centre stage at the at the external arena of the popular Liberation Stadium, Elekahia in Port Harcourt.
The 2015 edition is the 11th edition in the series and expectations is said to be on a high for participants; buyers, sellers and fun seekers gearing up for top of the bill trade exhibition that provides out-and-out opportunities for a greater percentage of the populace to buy, sell, network and relax with the best of Nigerian entertainment.
This year like the preceding events is organized by Port Harcourt Chamber of Commerce, Industry, Mines and Agriculture, PHCCIMA, a very strategic organized private sector, and advocacy outfit articulating business interest in the Niger Delta region and beyond, and brandoshed the second largest and active chamber of commerce in Nigeria.
Speaking to newsmen the vibrant and amiable President of PHCCIMA, Engr. Emeka Unachukwu said the 11thedition of Port Harcourt International trade fair has been uniquely modeled to provide a world class meeting platform for global brands, business networking and frontiers of countless economic opportunities that will take participants to a whole new pedestal.
Hear him: The slogan for the 2015 Port Harcourt International trade fair is "Low Prices, New Outlook', Low prices in the sense that a lot has been put in place to ensure that visitors enjoy low prices to enhance more sales for exhibitors. New outlook means the Liberation stadium will provides a new ambiance and altitude; I remember the last time we conducted a trade fair at the Liberation stadium was 2003 – this year we are returning to a familiar terrain where we believe the environment will be more serene, the atmosphere cordial and secure and the event hugely at its best", he was quoted as saying.
Noting with pride he said "the great transformation that has characterized our trade fair, from an ordinary assembly of traders, herbalists and small scale farmers to a world class meeting of global brands in a revitalized meeting that has become an international trade fair".
This development according to him underlines the recognition of trade as a key driver for economic growth in the country and a move towards realization of Nigeria's 2020 vision project.
Unachukwu noted that Port Harcourt International Trade Fair has been a major catalyst in the development of our domestic trade and undoubtedly has become pivotal in promoting international trade and fostering important international trade relations.
He noted that the Port Harcourt International trade fair has witnessed consistent upgrade in the quality of planning and organization to match international standard and this is evident in the provision of free health care and emergency medical services, presence of fire fighting personnel, and highly improved security set up at the trade fair ground and insurance among others.
"The uniqueness of Port Harcourt International Trade fair also greatly lies in the supporting programmes that spice up the entire event, we have improved our regular brand and stars concert by consistently featuring the best of Nigerian music and entertainment acts like, Kcee, Timaya among others who has performed live - this year will not be an exception as bigger stars are expected to be on parade" he said.
The PHCCIMA helmsman expressed gratitude to all exhibitors and sponsors who have remained faithful to the Port Harcourt International Trade Fair, especially those who repeatedly has supported its growth through regular participation among others over the years.
Skyebank, Enterprise Bank, Nigeria Breweries, Guiness, Indomie, Dangote, Amarula, Oando Gas, M.Saleh, LG Electronics,Federal Inland Revenue, Power Holding among others are expected to put up an appearance at the year ending fair.
Anderson Hart is a Media and Publicity Consultant, Online News Expert, Social Network Professional, Print and Electronic Media Journalist, Public Relations and Communications Specialist Per Excellence.