Power Outage Disrupts Ministerial Screening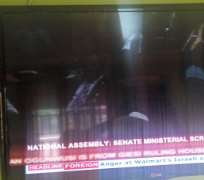 Power has been a major challenge in Nigeria and has really brought many businesses to a halt as many business owners as well as families complain bitterly of the problem they face as a result of consistent power outage.
One will think that it is only the poor masses that suffers this major challenge but with the recent incident that occured today at the ministerial screening , one will be left to say that even the rich suffers same.
It is quite an unfortunate incident that there was a brief interruption at the ongoing senate ministerial screening at the National Assembly chambers today when power suddenly went off thereby affecting the live screening that is viewed all over the world.