Bidemi Kosoko Celebrates Birthday with Orphanage (Photos)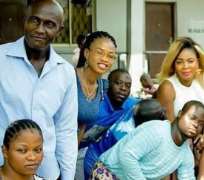 Nollywood actress, Bidemi kosoko, was on Sunday 25th, a year older and to mark her day, she decided to celebrate it with the orphanage.
The elated actress, explained that celebrating her birthday with the orphans brought her so much fun and joy within as she also dragged her father, Jide Kosoko, her elder sister, Sola Kosoko, along to support her kind heart.
They gave out various gift items in her capacity to enable the people there have a comfortable life and know that people care about them.