US WATCH LIST: Nigerian Youths Protest At US Embassy In Abuja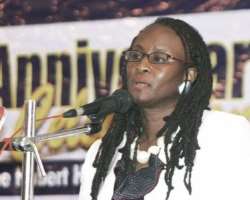 PHOTO: US AMBASSADOR TO NIGERIA RENEE SANDERS.
San Francisco Jan 8, (THEWILL) - A group of Nigerian youths on Friday morning at about 10.am protested at the United States embassy in Abuja over Nigeria's inclusion on the US terrorist watch list.
The protesters were reported to have gathered at the old parade ground Abuja, for an address before they proceeded on a peaceful walk to the American Embassy raising the Nigerian flag.
When they arrived at the front of the US Embassy, they found huge presence of Nigerian police who apparently had been intimated of their walk or the US embassy may have alerted the police.
The youths started by singing the National Anthem before their leader addressed those present including embassy staff.
At the end of the address the protesters submitted an Open letter to President Barack Obama and proceeded to the office of the hon. minister of information and Communications, Professor Dora Akunyili, who was away at that time. They were received by the Minister's Special Assistant, Mrs. Mary Ikoku who addressed them and congratulated them for their effort and more especially for the fact that they were not violent in their protest. She also promised to relay their message to the Hon. Minister.
A copy of the Open Letter to President Obama was also given to the Minister, which she received on her behalf.
See letter below.


President Barack Obama,

Dear Sir,

INCLUSION OF NIGERIA ON US TERROR LIST
Human life is sacred, hence it is incumbent on any responsible government to protect the lives of its citizens and guarantee their safety at all time. It's not a misnomer therefore that the Government of the United States of America, after the tragic event of a terrorist attack of September 11 beefed up its security apparatus to forestall any likely future occurrence.
The dastardly act of wasting lives by the Terrorist have been strictly Condemned and all progressive countries are putting efforts together to put a permanent cessation to the imponderable act of Terrorism. It bears emphasis that Nigeria Government has never hidden its disdain for terrorist and it has openly support any move to fish out the perpetrators of this evil act.
However, on December 25th 2009, a certain Nigerian born Umar Farouk Abdulmutallab (23) was arrested and later charged in the United State for trying to blow up N/W Airliners flight 253 as it approached Detroit from Amsterdam with almost 300 people on board.
Subsequent findings have linked the boy to an Islamic Terrorist group abroad and the investigation continues.
This unfortunate incident sent shockwaves to all Nigerians while Nigerian Government has risen up to vehemently condemn the act and also offer to assist American Government in any way possible in its bid to unravel the brains behind this incident.
Following this development, Nigeria has been included on a list of countries whose air travelers will face stiffer screening in journey to the United States. This singular action is made akin to aiming at a good goal in a bad way.
Negative profiling of Nigeria as "State Sponsor of Terrorism" on account of one citizen out of a hundred and fifty million is to say the least subjective, half hearted, unfair, unjustifiable and therefore unacceptable.
In 2007, CNN reported Nigerians as the happiest people in the world and this is our true nature.
No society can sail on an even keel without justice and fair play is an essence of justice. It is premised on this that we Nigerian Youths are using this forum to assert that:
1) Nigeria is a peace loving Nation with law abiding and God fearing citizens.
2) Categorizing Nigeria as a state sponsoring Terrorism is not fair.
3) Nigerian Youths oppose secret trial for Umar Farouk Abdulmutallab in the global interest, so his motive and secret sponsors can therefore be exposed.
Since there is no available evidence that the suspect is recruited, trained, supported or encouraged by any Nigerian or his government in any way, Nigeria should be de-listed forthwith and her citizens be accorded due dignity and be given equal treatment as enshrined in their social and cultural right which is part of the Vienna Conference on human right (1993)
We call on the American Government to be fair and de-list Nigeria from the league of terrorist nations. We also use this privilege to greatly condemn terrorism in totality.
We remain good people, great Nation.

Concerned Youths.
|
Article source