Darey Art Alade Shares Childhood Picture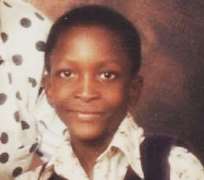 Famous singer, Darey Art Alade, would have ended up as a pilot, but for his love for the music industry, which over shadowed his desire to fly an airplane.
The talented singer and vocal artiste disclosed this recently through his social media platform.
The 'Not The Girl' crooner shared a picture of his childhood days and narrated through his caption, how he let go of his childhood dream.
"A man once told me that we never truly change; we simply grow into the person we've always been. When I think about it now, I see his point, though I'm tempted to disagree in part. This photo was taken when I was around 10.
"At a time I was more interested in airplanes than music. The music was always there but whenever I dared to stare at the future, the picture I saw was of me as an aviation expert.
"I try picturing myself at the local or international airport; hat in one hand, briefcase in the other, flanked on both sides by my female crew but it wasn't just about the swag, the appeal for me was always the machine; that beautiful sleek arial beast made of steel and dreams! I dreamed of flying it, fixing it, building it; ah sweet memories," he wrote.
He then asked, "Do people change or do we simply grow into the person we've always been? What are your thoughts?"