Nigeria Independence 2015: Nigeria At 55!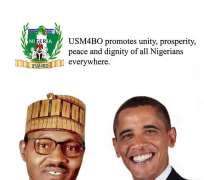 The United States Movement for Buhari-Osinbajo (USM4BO) congratulates Nigeria's President, General Muhammadu Buhari and his vice, Professor Yemi Osinbajo on the 55th Anniversary of the Federal Republic of Nigeria Independence.
We congratulate all patriotic Nigerians as we witness another year of our independency. We salute the courage of our brave men and women in military and all security parastatals who have dedicated their abilities, and even their very lives, to defending the freedom and protection of our dear country, Nigeria.
USM4BO uses this opportunity to express our unyielding support to President Buhari and his administration in the implementation of their manifesto and in fulfilment of the promises made to the Nigerian community.
We therefore urge Nigerians not to be too anxious or angst for "CHANGE" without substance. President Buhari has reiterated that his government is prepared to meticulously execute projects that would impact on the lives of Nigerians and challenges us to embrace the philosophy of Change for the general good of the society.
At the 70th Session of UNGA, President Buhari called upon the global community to urgently redouble efforts towards strengthening the mechanisms for dismantling safe havens for proceeds of corruption and ensuring the return of stolen funds and assets to their countries of origin.
USM4BO unequivocally support the President's call and we will continue to blow the trumpet of this call everywhere until these safe havens are dismantled and discouraged.
USM4BO calls on all Nigerians from all walks of life to be vigilant and know that the era of "See Something and Turn the other way" is gone. Now, we call on all Nigerians to adopt the slogan of "See Something, Say Something". USM4BO believes this is one way we can take responsibility for our future; this is a way we can hold our leaders accountable. "Change" starts from each and every one of us. Let's do the right thing first at all times, in all places. "Be a proud Nigerian wherever you find yourself."
USM4BO takes pride in our rich ethnic diversity and unity across different tribes, and religious groups. We stand to protect the image of Nigeria everywhere, and we are committed to true democracy, human rights, peace, community development, opportunity, fairness, and freedom for all Nigerians.
Prince Oladokun Faduyile Mohammed Achimugu
(Corresponding Secretary) (National Secretary)
Prof. Salewa Olafioye, MD Dr. Sylvester Okere
(National Vice Chairman) (National Chairman)