Real Reasons King Sunny Ade Married A White Woman Revealed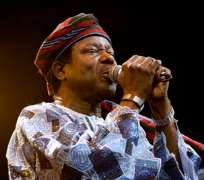 Some people might not know that legendary singer, King Sunny Ade, among is numerous wives, also has a White woman in his life as he has tried in maintain a low profile about his family's identities.
For many who would have claimed fake love all in a bid to get passport, the singer speaking about his white lover, stated that he actually married her because of the real love he has for her, respect and the business angle to it.
He also disclosed that he has kids in America and does not hide anything from his White lover. Adding that rather than just saying he loves her, he ensured that she knew everything about him.
"It was love. I have kids in America. There was love on one side, respect on another side and then business on the other side. I just don't say, 'I love you, I want to marry you.' You have to know me. All my wives work hard. They want to copy me. They don't want to stand at the door and beg for money," he told Punch.