Independence Celebration: Insurgents Killed Many And Set Several Houses Ablaze In Some Villages Of Adamawa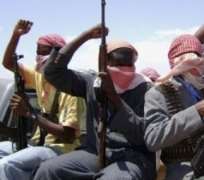 As Independence celebration is going on in most part of the country in a peaceful manner, the residents of Bitiku, Kubu and Kirchinga villages said insurgents suspected to be Boko Haram attacked them on Wednesday evening.
The immediate past Chairman of Madagali, Maina Ularamu confirmed the attacks, calling for deployment of troops to the villages.
"The insurgents attacked a group of traders returning from Gulak market and killed four of them before proceeding to Kirchinga where they slaughtered seven persons including three women", he said.
He stressed the need for the military to station troops in villages that saw frequent attacks in recent time with a view to flushing out remnants of the insurgents.
He also appealed to government for restoration of government structures and social services in the recaptured territory, saying residents are suffering from lack of hospitals, bridges as well as basic needs of life.
The Governor has since issued a press statement to hold the Independence celebration in a low-key considering the thread to insecurity in the state