Wazobia FM OAP, Yaw To Feed The Needy Today, October 1st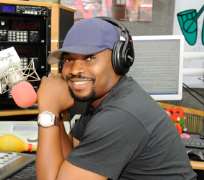 Wazobia FM OAP, Steve Onu popularly known as Yaw is teaming with Hawtefyre to feed people in need today, October 1st , which marks Nigeria Independence Day.
The charity event tagged #IndependenceDayFoodDrive, will take place at The Destitute Home, 28, Okobaba Street, Ebute Meta, Lagos between 10am to 1pm.
Yaw is also seeking member of the public to offer donation towards this movement. Clothes, Shoe, Toiletries, Non Alcoholic Drinks etc. are among the things being requested.
Commenting on this event, Yaw said
"We make a living by what we get but we make a life by what we give. I expect to see everyone there today".