To Move Forward, We Must Move Forward Together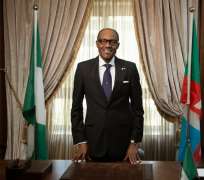 Message from the All Progressives (Congress) Youth Forum (APYF) on Nigeria's 55th Independence Day Celebration
Today, as we commemorate our nation's 55-year independence as a sovereign and self-governing nation under God Almighty, Nigerians all across the country settle to celebrate our remarkable history.
The story of our country since that faithful first day of October in the year 1960 has been one that has been marked with perseverance, hope, and the endless potential of ample possibilities.
As a country, we have journeyed through civilian rule to military eras, down to our present-day democratic dispensation. Though our Independence Day stories have varied noticeably over the years –given the current political and social climate in Nigeria today – the All Progressives (Congress) Youth Forum (APYF) is proud to be associated with Nigeria's current push in a positive direction.
For the past few months, under the All Progressives Congress (APC)-led government, the steering wheel of our nation has been recovered, and steadily but surely, Nigerians can see our nation being driven to respectable heights in the comity of nations.
Additionally, our leaders from all arms of government can be seen working hard to set meaningful precedents aimed at strengthening Nigerian institutions. The long-lasting, far-reaching, and constructive-affirmative change that we all seek, the reassuring governance that we many of us voted for earlier this year is gradually coming true before our very eyes.
As we celebrate the Nigerian project today, let us remember the Nigerian story. Let us mark today in deep reflection, cognizant of the fact that we must all play our own little part to make Nigeria better. Let us also remember that the New Nigeria that we all want can only be actualized by a collective and concerted effort that cuts across our country, and our perceived ethnic, religious and political differences.
To move forward, we must move forward together. To make Nigeria a country that will once again become the voice and Giant of Africa, we must all bring forth our healthy-best. Naysaying, grandstanding, and the meaningless status quo must now be left behind.
This is a new Nigeria, and we celebrate her independence today.
Happy Independence Day to all Nigerians from the APYF.
May the Almighty continue to bless Nigeria, and May He, in his infinite strength, wisdom, and mercies, grant grace and favour upon our people, and our leaders.
God bless you all. God bless the Federal Republic of Nigeria.
For APYF:
Olu Wole Onemola
National Public Relations Officer
APYF