Buhari Is Not Alone, Join Or Resign Now!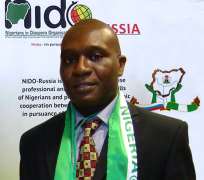 As we celebrate our 55th Independence Day Anniversary of our dear country, Nigeria, on this day, the 1st of October 2015, I congratulate you all fellow Nigerians, brothers, sisters and friends of our dear country!!!
Let me use this opportunity to join my voice to the call made by President Buhari to world leaders at the 70th anniversary of the United Nations General Assembly, for the leaders to help return Nigeria's stolen treasures hidden in their territories.
We must intensify our commitments to this task on daily bases, in every meeting, every visit, every occasion for the next four years, or eight years and there after, both in and outside Nigeria. All independent mind must unite to this resolution to forge out the way to true freedom and justice.
We Nigerians in particular and Africans in general can no longer afford wasting our precious time and resources with thieves and dishonest individuals who continue to abuse public trust. We employ public officers, and pay them heavily for them to build up our economies and secure our commonwealth.
I will advise that all Nigerian public officers, already appointed by President Buhari, or elected to this present administration, who is not ready to pursue the setup goals as demanded by the President and the Nigerian people must resign now before it is too late. The same goes to future Ministers to be appointed.
They must not accept their cabinet portfolios if they are not ready to join this fight and pronounce it publicly throughout their tenure in offices. .There will be no time limit because majority of Nigerians both at home and in the Diaspora are behind the President and we want our treasures back. We are not just watching but we shall intensify the fight from now on with all possible means.
We have gone a long way as an Independent nation together but much is still left to be desired, so can no longer afford to be at the losing end with devastated states of infrastructure, poverty, worsening healthcare system and rising unemployment in the country.
We need good roads, railways, aviation, industries, adequate food production, uninterrupted power supply and many other things to develop our country to this 21st century level and keep our people out of poverty. That is our immediate task to achieve, so as to achieve our Millennium Development Goals (MDGs).
I call on all well meaning Nigerians at home and in the Diaspora to rise up and join this fight, because this is the time to bring back our looted treasures, bring back decency in government and return human dignity to our people. We must utilize this rare opportunity which we may no longer have, so as to put things in order and clarify ourselves before generations to come.
We, the Nigerian people did not hire anyone to loot our treasure, so any public officer who did that abused his office by violated the terms of the contract.
We join our voices to call on all nations, great and small, from East to West, Middle East and Asia, from America to Europe, South America to Australia, From Atlantic to Pacific Coasts, Islands, organizations an companies, to help the Nigerian people discover the loots in their territories, help sanitize our world, discourage corruption and expose all individuals, who by their actions subjected the African people to abject poverty, hunger and long suffering.
With your support, the Nigerian and African people will ever remain grateful and history will never forget your kind gesture.
Happy Independence Day once again to everyone,
Long Live the Federal Republic of Nigeria!!
And God bless you all!!!
Rex Essenowo is a Moscow based consultant, a management economist and currently the chairman of the Nigerians in the Diaspora Organisation (NIDO Russia)
E-mail: [email protected]
www.nidorussia.com
+7-495-518-1836
Disclaimer:

"The views/contents expressed in this article are the sole responsibility of

Rex Essenowo

and do not necessarily reflect those of The Nigerian Voice. The Nigerian Voice will not be responsible or liable for any inaccurate or incorrect statements contained in this article."