Bimbo Daramola Hails Buhari As Nigeria Celebrates 55th Independence Anniversary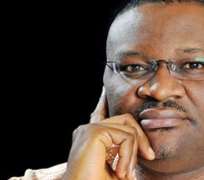 A member of defuct 7th Assembly in the lower chamber who represented Ekiti North Federal Constituency 1, Hon Bimbo Daramola has given credit to the government of President Mohammadu Buhari, saying the change mantra has reflected positively on every aspect of our national life.
Adding his voice to Nigeria's 55th independence anniversary, he said
Nigeria is still a work in progress and that the country will attain
her place of pride in spite of various obstacles it is facing.
This was contained in a signed statement obtained from his media aide,
Bayode Ayodele, Wednesday night.
According to the statement, "President Buhari's administration has
brought change in the country in all facets of our national life
through his anti- corruption crusade. This had tremendously and
positively reflected in the socio economic and political activities of
the country. As we all know, today marks 55 years of our independence
as a nation, I would like to say congratulations to us all. Through
thick and thin, we have built this country together. Through triumphs
and trials, we have developed a Nigerian identity in our own way.
Continuing, "In truth, Nigeria is still a work in progress and we are
challenged everyday to keep building in spite of the various obstacles
that we face. Our strength has been in our diversity. If we look back
over the years, we can say confidently that there is every reason to
celebrate.
Without prejudice, the change Nigerians are witnessing from Buhari
brought a total rebirth to this nation. In the last 16 years, Nigeria
was virtually at a loss. Nigeria was virtually at a failure. Nigerians
virtually lost hope and confidence in government. Buhari brought the
lost hope and confidence. He started first with security. Ordered the
military to relocate to Maiduguri, Borno State, changed the service
Chiefs, charged the military to end the insurgency and they are
working. I commend our Armed Forces and security agencies for their
dedication and bravery in the face of grave danger, and in the name of
our collective liberty."
The statement further stated, "At 55, what our nation needs is sheer
commitment from all stakeholders to the course of a better Nigeria.
Nigeria will not be made great by Americans or Chinese, Nigeria will
be made great by Nigerians. Let the reawakening spread, be determined
to make your effort count in taking Nigeria to a greater height. Yes,
it is possible if we are responsible. With a focused leader which we
currently have at the centre who is known to be visionary; full of
capacity, competence and character, I assure Nigerians that when we
look back in few year to come we would be thankful that we kept the
faith. May God continue to bless the Federal Republic of Nigeria." The
statement concluded.
Disclaimer:

"The views/contents expressed in this article are the sole responsibility of

Ayodele Bayode

and do not necessarily reflect those of The Nigerian Voice. The Nigerian Voice will not be responsible or liable for any inaccurate or incorrect statements contained in this article."