Hunting Love - a flash fiction story from a renowned author/writer
A Quick Read Series by Nnenna Uma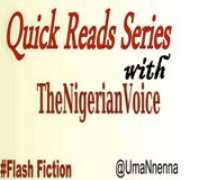 The silence at night, the fear of looking into the eyes of a child, and my own inability to cry will haunt me for eternity. The small card with my name on it and her birth date was my companion.
His voice had never sounded so cold. I waited. Nothing. It did not make it better, I wanted a slap across my face, I wanted to be kicked to the ground and dragged around the bare earth. Why was he so quiet? Why of all times now? Instead he took steps defeated away.
I could only look at him. Not myself, never myself again.
The Doctor had not asked why, just if the father had consented. He had not ask for a proof of that either. He had not cared, the formalities were important for the money.
I grabbed my chest and clung to it, the lump in my throat was heavy and bitter, but the tears wouldn't come.
Three times I had jumped from the bed in fear, not pain. He waited, and continued never once asking.
Do you want to stop?
He buried his face in his large palms and I could hear his sobs. He never cried; I was the one who cried.
A warm rush of liquid had gushed out of me and it was over. Just in a little while the doctor said.
I lifted my hands to my stomach. It looked the same, but the firmness just below my navel was gone. I knew something was wrong, but I couldn't cry.
A while after the doctor walked out the dizziness started. I was hungry; strange feeling at such a time - and relieved.
Standing rooted here in our small room, and staring at the strong man crying. I was immobilized. It is strange to think, even strang-er to say, but I loved my baby.
Eight years, I still wander around the children's park and still see the strong man crying, but I still can't cry. She said not to worry; she had taken away all my tears, unfortunately, even that of joy.