AfriDocs - Sub-Saharan Africa Broadcast Presents: Critically-Acclaimed, Award-Winning Documentary 'The Supreme Price' About Women And The Pro-Democracy Movement In Nigeria To Air On 1st October – The Anniversary Of Nigeria's Independence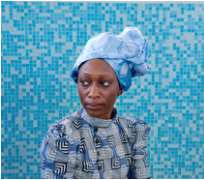 The timely and powerful, critically-acclaimed, award-winning documentary film THE SUPREME PRICE, about women and the pro-democracy movement in Nigeria, will be broadcast on AfriDocs in 49 Countries across sub-Saharan Africa on October 1st, 2015, the Anniversary of Nigeria's Independence.
Produced and Directed by filmmaker Joanna Lipper, the film won the Gucci Tribeca Spotlighting Women Documentary Award, was named Best Documentary at the African International Film Festival (AFRIFF), and is currently nominated for an African Movie AcademyAward (AMAA) - Best Documentary, and nominated for the Grierson Awards - Best Historical Documentary.
Synopsis of Film: In 1993 Nigeria elected M.K.O. Abiola as president in a historic democratic vote that promised to end years of military dictatorship. Shortly after the election, Abiola's victory was annulled. General Sani Abacha seized power in a military coup and arrested M.K.O Abiola. During her husband's incarceration, M.K.O Abiola's wife, Kudirat, took over the leadership of the pro-democracy movement, organizing strikes and marches and winning international attention for the Nigerian struggle. Because of this work, she too became a target and was assassinated.
Director Joanna Lipper elegantly explores past and present as she tells this deeply moving and intriguing story through the eyes of M.K.O and Kudirat Abiola's eldest daughter, Hafsat Abiola, who was about to graduate from Harvard when her mother was murdered. Her father died in prison two years later under mysterious circumstances. Determined not to let her parents' democratic ideals die with them, Hafsat returns to Nigeria after years in exile and is at the forefront of a progressive movement to empower women and dismantle the patriarchal structure of Nigerian society.
In this riveting political thriller, the Abiola family's intimate story unfolds against the epic backdrop of Nigeria's evolution from independence in 1960 - through the Biafra War, subsequent military dictatorships and the tumultuous transition to civilian rule - through President Goodluck Jonathan's victory in the 2011 elections as Hafsat continues to face the challenge of transforming a corrupt culture of governance into a democracy capable of serving Nigeria's most marginalized population: women
Filmmaker Joanna Lipper combines daring reporting, exclusive interviews and behind-the-scenes access shot during numerous trips to the unstable country with incredible, heart-stopping archival footage from some of the nation's most politically tumultuous, violent and corrupt periods during the past fifty years.
Filmmaker Joanna Lipper explains "I'm deeply honoured to be having our African Broadcast Premiere in 49 Countries on October 1st, a significant date which marks 55 years of Nigerian Independence. Following the recent pivotal election of President Muhammadu Buhari in Spring 2015, this is an ideal moment in time for viewers across the continent to contemplate Nigeria's complex, historic, political evolution as a nation as well as an opportunity for me as a filmmaker to raise awareness and spark provocative discussions about women's rights and political participation in present-day Nigeria."
AfriDocs screens every THURSDAY at 19:55 Central African time (GMT + 2) on [ED] DStv Channel 190 & GOtv Channel 65 across sub-Saharan Africa. Repeats on Sundays – visit website for full schedule
For the full programme schedule and synopses of the films, please go to www.afridocs.net or www.facebook.com/AfriDocs
You can also follow AfriDocs on twitter: @Afri_Docs
Film Website (Trailer, stills, filmmaker photo, press kit available for download):
www.thesupremeprice.com
Joanna Lipper: www.joannalipper.com
Facebook: https://www.facebook.com/thesupremeprice
Twitter: https://twitter.com/thesupremeprice
Link to Short Trailer: https://vimeo.com/71850403
Link to Extended Trailer: https://vimeo.com/60769824
Biography – JOANNA LIPPER
Joanna Lipper is an award-winning filmmaker, photographer and author of the nationally acclaimed book, Growing Up Fast. Her latest documentary, The Supreme Price , received the Gucci Tribeca Spotlighting Women Documentary Award and was named Best Documentary at Africa International Film Festival (AFRIFF).
Lipper's work as a documentary filmmaker has been supported by the MacArthur Foundation, Ford Foundation/Just Films, ITVS, the Gucci Tribeca Documentary Fund, Chicken & Egg Pictures, Women Make Movies, IFP Spotlighting Documentaries, Britdoc Foundation and The Fledgling Fund.
Previous films Joanna Lipper has produced and directed include the award-winning documentary, Inside Out: Portraits of Children, Growing Up Fast and Little Fugitive. Lipper's nationally-acclaimed book about teen parenthood, Growing Up Fast, was published by Picador in 2003. "Compelling and important...this book adroitly illuminates a social crisis." (Publisher's Weekly).
"African Cinema: Top Five Political Films - The Supreme Price...combines daring reporting with behind the scenes access and dramatic archive footage through some of the country's most unstable periods. A fascinating history lesson of a nation still struggling to emerge from military rule." - The Guardian
"Some of the best documentaries tell inspiring stories of people overcoming the unthinkable... With an uptick in kidnappings and killings, the situation in Nigeria is looking bleak. How exactly did the country get to such a state? Joanna Lipper's film looks at the pro-democracy movement in the corrupt African nation but also gives a helpful tutorial on Nigerian politics." – The Washington Post