Sleep Is Supposed To Hurt -a flash fiction story from a renowned author/writer
A Quick Read Series by Nnenna Uma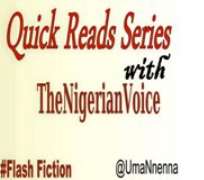 Barf, Barf, its going to be okay, I managed to mutter while rocking his crouched body with both arms. They had said it was a short visit to a distant aunt who was sick. He had driven them in his car and arrived leading the train like the older brother he was. He had walked in first, and then clang the door was shut behind him. It was a mistake, they would let him out, they knew he was claustrophobic.
He couldn't tell how long but it's been a lot of hours, he had heard their indistinct voices outside the door, it had being planned.
What did he do? Why was he being locked up? He could not imagine why. Something was terribly wrong. They were making a huge mistake.
The woman who came was a doctor; a mind doctor she said. Barf didn't need a mind doctor, he needed his freedom.
He did not understand what was wrong in having a routine, sorting through his newspapers every Sunday, or not being married at fifty-four. He did not understand what was wrong in arranging alphabetically everything that had a bold name on it. He did not understand what was wrong in buying all brands of the same product, and consuming all sequentially at a sitting. He had told them he did not get sick, he had told them he did not want a wife. Why was he being locked up and made to talk to a mind doctor?
So many questions bothered Barf, so many frightening thoughts.
"Barf there is something wrong with your mind."
"I am not crazy Doctor. I have a job, I am an efficient Accountant."
"I know Barf; I just need you to sleep now."
Sleep? Sleep. Why did she need him to sleep? The sharp pain came before the swell ran through his body. She was patting his forehead. Sleep.
Yes, Maybe Barf needed to sleep to wake up.
Dedicated to all sufferers of OCD.