Back To The Era Of Darkness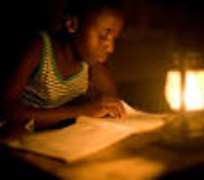 Nigeria years of unstable power is back again for no good. It was a day before the assumption of power of President Mohammadu Buhari that we all rejoice as a nation as to the new change is about to take the mantle of power after many years of nothingness and adversity.
It was then we Nigerians are dancing to the mantra of change of the new coming government of President Mohammadu Bahari while happiness stuck the faces of many. That very day was when the spirit of change is well written in the mind of Nigerians. We laughed and danced away our years of suffering and suffocating system of bad governance.
Six years of draconian leaderships we consciously forget our journey from where we started and how we have found ourselves this way as a giant of africa but giant of misfortune. As a country, here we are with no clear defination of landing well after six years of square peg in a round hole.
It pains a lot how fast we are forgetting that we are still not getting it right until we eventually get it right. I have understood from my years of when I knew the difference between the right hand and the left hand that a country like ours needs visionary leaders and not blockish, embarrasing leaders who care nothing less but to elevate our expectations and once more bring us down to zero point.
During elections we see awful lot of sanctimonious display of representatives and empty promises pouring out endlessly like that of the water coming out of tap water from these same problematic leaders. Even during this crucial time some hungry Nigerians rallied round these people as if they are king arriving from New york after days of nation building discussion with the Europeans. What a country!
We vote them to office and wreck havoc on us ― forgetting their days of electioneering and humble pleading to be voted for. Our leaders forget the days they are once like a common slave begging in the house of tough masters. These people who for splendid six years made us fumbled in the dark at night and blinded by the act of wicked lack of power suppy. These people think they are superior but the fact still remain that they are in office today because of us and they ought to understand we are one and not an alien from another sphere.
The very good power we started revelling from the day before President Mohammodu Buhari assumed office is now again becoming retro-active with no reason but to render the sector as high blood pressure that calls for sphygmonanometer. I must say that this is no joke but a serious issue that the administration of President Muhammodu Buhari should waste no time to look into before these power sector put an end to the
honeymoon in which for many years of these sector inactive the people cannot afford to go back on again. You know sometimes it is hard to understand as to why there is no 24hours electricity a day and why every month they choke us with questionable bills.
They say we are not poor as a country like the common say that we are endowed with natural resources and for the fact that we are wealthy enough as a country, but honestly it bothers the mind why as a rich country still dreaming about 24hours daily light and with the positive thinking of many people to cheat and ride roughshod over their fellow Nigerians. Sad indeed!
It is so sadden many Nigerians goes to foreign land to imitate evil as against to learning and exploring of how a country is run; how to and how not to treat people being governed; how love and care unite them; how to maintain and sustain integrity; how to be each other brother's keeper; how not to corrupt the government system or compromise it; how not to institute the habit of stealing and greed; how to maintain peace and honour that guide against terror and conflicts;how to deal with problems by discussing it and immediate action is carried out; how to better the lives of the people and not the satisfaction of self alone; but no, however, they go there to secure illicit wealth and come back here to become pompous and watch things lacking.
The power sector is gradually showing outward visible sign of our past epileptic power supply we have long experienced before and not paying due attention to it can be depressing later on. The syndrome of no-light
tonight is nothing else but a mischief. This time around it would not be a business as usual or child's play provided the federal government is not sleeping too deep on these power problems. "What has changed all of a sudden in these honeymoon after marriage by the power sector should be checked and restored."
According to report of yesterday: The modest gains recorded in the power sector over the past three months are being threatened by the activities of pipelines vandals, which have led to the fall in electricity generation by 356.8 megawatts within the last three weeks.
If Power generation climbed to an all-time high of 4,810.7MW on August 25 this year, but latest figures from the Presidential Task Force on Power showed that it had fallen to 4,453.9MW as of September 16 due to the criminal acts of the vandals shows a kind of huge crevices that damand for urgent rescue; why not resolve it and give no room for cavalier attitude of yesteryears?
Federal government should ponder well on why oil vandals are restless in the devilish operations, threatening the flow of democracy and preferred degeneration of the country.
I want to make something clear that no amount of these sad news can sway the mind of Nigerians for them to relax and watch things going astray. The fact here is that, they have waited so long before and cannot afford to wait more. After all six years of darkness is not a mere joke.
I call on Mr. President to probe and uproot the brain behind these six years of bloopers in our power sector. Invariably, I do not think as a country we need an augurer to tell us that our number-second problem is the electricity since the first problem is temporary fixed ― which is leadership. I must say that amongst other things we need to make stable is the power supply that can be forever fixed before the end of this dispensation. And the toy, in which our electricity has turned to can be corrected by this government. Mr. President should put a stop to our power sector's sham and needless seize of power for people use.
These alone can put and an end to Nigeria undoing electricity supply of yesteryears and replace with eternal happiness of ordinary Nigerians.
Disclaimer:

"The views/contents expressed in this article are the sole responsibility of

AdemoĻa Taofeek

and do not necessarily reflect those of The Nigerian Voice. The Nigerian Voice will not be responsible or liable for any inaccurate or incorrect statements contained in this article."