Stand By Saraki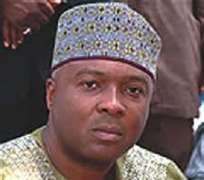 #StandbySaraki
Playing the reggae and blues in one mix
The Reggae:
Senate president, Bukola Saraki arraigned on a 13 count charge by the Code of Conduct Bureau.
That is certainly breaking news. The senate president who has been tagged Notorious Thief by Sahara Reporters (those guys have mouth, I can't shout) is indicted for acts that date back to his days as governor of Kwara State.
Gbagam! Gbagam! Gbagam!
The bells now toll in high places. Buhari has brought change. Change has come. The institutions are getting the reawakening.
Before I forget, dear Code of Conduct Bureau, maybe you should also look in the direction of Ota. Heard there's a big fish there that reigned while Bukola was governor, just in case you need a few more big names. No strings attached. No sentiments.
Unless someone somewhere has specifically asked for Bukola's head on that golden platter though. Isn't that what's called witch hunt?
But Bukola is a big boy. Even the presidency has to feel this nigga.
The curious case of corruption in Nigeria.
The boos to the rescue:
In another breaking news, senators have vowed to stand by him. That's confusing isn't it? What do they mean by 'stand by him'? Is it that he didn't steal, or based on his position, even if he steals, it shouldn't be an issue? You know the big man thing. Or maybe they know him too well that he cannot steal because Bukola, former governor, presidential aspirant, and a fellow who became the senate president in the most controversial circumstance through which someone has ever ascended that throne in recent times does not like money?
The blues:
That's a high possibility. Bukola might not like money, so how can they ever accuse anyone who does not like money of any illegal dealing in any money-related matter? That's the big question. Before the papers are brought, before you even allege, no matter what you hear, you must first seek to know his desire for money. You must verify first that he likes money before you point fingers, no matter what the books say. That's the standard. The condicio sine qua non. The norm!
Hell! These fellows at the Code of Conduct Bureau must be high on some yet to be named substance.
Have you asked the big question: Does Bukola Saraki like money?
Back to explanations. I won't mind if someone helps with a probable explanation as to what the senators mean by 'stand by Bukola'. That he didn't steal, doesn't like money, can't steal or shouldn't be mentioned at all because of who and what he is?
But these senators are not really up to date though. They aren't.
The entrant of the boos of boos:
Just an advice: dear senators, there's a better way to go about that. Get some active folks with huge followership on social media, give out a few millions and get the hashtag #StandbySaraki trending. Best way to go about it.
#StandbySaraki. Sounds sweet already. Doesn't it?
Let's get the activists out.
Dum Syl Amimikpo
Tweets with: @dumsyl
Disclaimer:

"The views/contents expressed in this article are the sole responsibility of

Dum Syl Aminikpo

and do not necessarily reflect those of The Nigerian Voice. The Nigerian Voice will not be responsible or liable for any inaccurate or incorrect statements contained in this article."