"Arrest Our Leader And Face Us" Biafra Nations Youth Warns IGP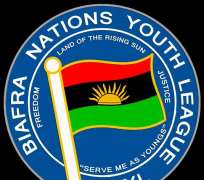 Regarding the recent order by Inspector General of Police against all Pro Biafra Activists, Biafra Nations Youth League has warned Nigeria Police Force to stay clear of their Leader.
In a statement signed by the League National Coordinator Comrade Eyam Esung the group made it known that the non violence norm of the Youth League should not be taken for granted.
"We are not going to fold our hands should our Leader be arrested. It's not a crime to agitate for our freedom"
Eyam reiterated the need to combat terrorism in the North and not witchaunting Biafra Agitators in the South.