Saraki shuns Code of Conduct Tribunal again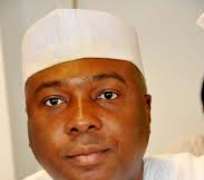 Abuja: 11:00 am: Senate President, Dr. Bukola Saraki on Monday failed to appear before the Code of Conduct Tribunal in Abuja, where he is expected to take a simple plea of guilty or not guilty on a 13-count charge of false declaration of assets.
The court room was filled to capacity, with many supporters of the Senate President, lawyers and journalists in attendance.
On Friday, the tribunal issued a bench warrant against the Senate President, asking the police to arrest him and bring him to trial Monday.
The police claimed that they did not get any warrant to arrest Saraki, who himself tweeted he was not hiding.
Reports at the weekend indicated that the Senate President would challenge not just the planned trial on Monday but also the validity of the arrest warrant, based on legal advice that an order procured on Thursday night from the Federal High Court in Abuja, ought to have been enough to stop the Tribunal from sitting on Friday.
The order given by Justice Ahmed Muhammed the Federal High Court in Abuja, summoned the CCB and CCT to his court today, the same day that the trial at the Tribunal was billed to start.