Is Buhari Thinking What I Am Thinking?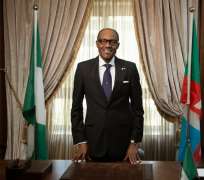 In our Vice President, Mr President has a SAN, a former attorney-general and commissioner for justice, an experienced legal entrepreneur and a senior professor of law all rolled into one!
As a Senior Advocate of Nigeria, he kickstarted, activated and actualized the legal magic in Lagos state of Nigeria as the head of the legal team of the state, helping in legal policy formulation as it worked in tandem with the Office of The Director of Public Prosecution to bring about swift dispensation of justice.
Serving under Bola Ahmed Tinubu the erstwhile governor, he contributed in laying the foundation for the wonderful developments in the justice sector in the state:
1. Office of the Public Defender to provide free legal services to indigent citizens.
2. The One Stop Shop for Legal Matters to reduce the time wasted in perfecting legal matters.
3. Arbitration Offices in all Local Government Areas for high-profile industrial disputes.
4. Mediation Centres for prompt resolution of sundry civil matters to decongest our regular courts.
5. Reforms in the spheres of Evidence. Video support is now sine qua non with admissibility of confessional statements as valid evidence in criminal prosecutions in Lagos state of Nigeria.
And photographic support is now mandatory in civil cases especially in tenancy disputes which hitherto were awash with "kangaroo evidence"...a parlance for cooked-up "evidence" against unwary tenants by unscrupulous landlords in collusion with corrupt lawyers and judges!
6. A specific timeframe is now affixed to all cases which mandates that they be heard everyday and discourages undue adjournments! At the federal level, these novel policies were complimented by policies compelling promoted judges to continue adjudicating on cases before them prior to being promoted.
7. The spate of ornate buildings now serving as courthouses throughout Lagos state was conceptualized during Oshibajo's tenure as the attorney-general of the state....and actualized under the regime of Babatunde Raji Fashola as governor. And efforts are in top gear to ensure that these new and improved...upgraded Temples of Justice do not function as Synagogues of Sin!
As a well-rounded law professor specializing in Evidence, Buhari has in Oshibajo more than he would ever require in a sundry attorney-general.... and this is the crux of this thesis!
As I am made to understand that a Vice President has no real clear-cut duties under our constitution other than those delegated or otherwise assigned to him by Mr President, I am certain that Buhari would not allow Oshibajo's brilliant legal mind go to waste!
He is too brilliant to make such a slip.
Whether our Vice President deeply burries his brilliant head in the nitty gritty of preparing charges against treasury thieves billed for prosecution or merely acts in a supervisory capacity to a covert team of investigative and prosecutory counsels, a fertile template would have been prepared for the incoming attorney-general to build upon!
A forensic audit of the antics of treasury thieves wouldn't have had a stronger foundation.
Dr Tosin Akindele is a medical practitioner and public affairs analyst.
Disclaimer:

"The views/contents expressed in this article are the sole responsibility of

Tosin Akindele

and do not necessarily reflect those of The Nigerian Voice. The Nigerian Voice will not be responsible or liable for any inaccurate or incorrect statements contained in this article."
Articles by Tosin Akindele