Shettima Warns Commissioners, Caretaker Chairmen Against Diversion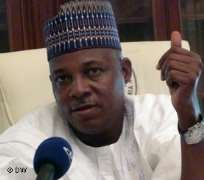 Governor Kashim Shettima of Borno state has vowed to sack any of the new commissioners and care taker chairmen of Local governments from diverting food stuff meant for the over 1.5 million internally displaced persons across the state.
He made the pronouncement at the Multipurpose Hall of the Government House Maiduguri during the swearing- in - ceremony of the 21 Commissioners ,27 local government Chairmen and one permanent secretary.
The governor directed the Chairmen of three local government areas of Ngala, Kalabalge and Gwoza to immediately relocate to Yola, the Adamawa state capital to help return the over 10, 000 Borno IDPS recently sent packing from the Republic of Cameroon back to Borno.
"Hunger is the main problem of our internally displaced people whose communities have been destroyed by Boko Haram insurgents, we must do all we can to alleviate their suffering and give them a new lease of life", he stated.
"let me warn all of you, I will not even think twice in removing any chairman or commissioner found wanting in the discharge of his duties; if anybody, be it a commissioner, local government Chairman or member of the state House of Assembly or any government official tampers with food stuff meant for the poor will be made to face the full wrath of the law".
Shettima made it clear that he will involve the officials of state security services, police and the military intelligence to monitor the distribution of these food stuff, and ensure they report back to him.
" let me assure you, that we will commence the rebuilding of Bama with or without assistance from international community after the Sallah celebration , the people of Askira and all other destroyed communities will go back to their communities after rebuilding.
The Governor then warned the new commissioners not to lurk around the government house without invitation and local government chairmen should restrict themselves to their local government headquarters.
" but going forward I will have to step on many toes, I want to tender my unreserved apologies because definitely we have to work for the good of our people so that posterity can judge us right " governor Shettima concluded.