MOVE OVER OLUCHI, AGBANI - FUNMILAYO AKINJUOLA AND DAMILOLA OKUNOLA ARE THE NEW NIGERIAN 'ELITES' OF MODELLING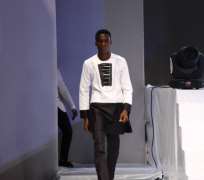 When 17 year old Funmilayo Akinjuola and 19 year-old Damilola Okunola enrolled in the Aquafina Elite Model Look Nigeria 2015 competition, along with thousands of other contestants, little did they know that their lives were about to change.
A student of Horticulture in the Federal University of Agriculture Abeokuta, Funmilayo is not new to the game. According to her proud mother who was full of smiles, Funmilayo started modelling when she was 14, and has participated in several national and international competitions like the Top Model World where she came 5th, Top Model Nigeria from which she emerged winner, and Model for Models competition 2015 which she also won.
For Damilola Okunola on the other hand, the Aquafina Elite Model competition happens to be his first ever attempt in such a contest. A fashion and hair stylist, Damilola is completely dedicated to building his modelling career at even the expense of a University education, which according to him, he can always come back to after he has 'made it'.
Now, they both seem to have 'made it', having won cash prizes of $5000 each courtesy Aquafina, the title sponsors of the event. In addition, they also get a once-in-a lifetime chance to participate in the Elite International Modelling Competition in China later this year, and an opportunity to break into the superstardom of the international modelling scene.
The sky is the limit for these guys, or maybe somewhere beyond it, in blue space.
FUNMILAYO AKINSOLA ON THE RUNWAY
IMG 0264