Darey's Label Mate Zaina Shocks Fans With Bold, Sensual Single 'Pana'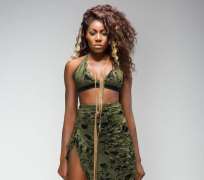 Lagos, Nigeria|Monday, September 14, 2015- Sultry Nigerian singer Zaina has just released an amazing single titled Pana (meaning "Hit Me").
The song, which explores the raw concepts of insatiable desire and mutual attraction was produced by Vtek and released on the Livespot Entertainment imprint.
Zaina says "Pana is what happens when there's an explosion of strong feelings. It's a shock wave of unpredictable reactions."
The Lagos-based singer reinvents a sound Nigerian music fans are familiar with, working with Vtek (the 24 year-old producer famous for working with Psquare) to create a formula that will work locally, yet open doors abroad.
Direct Download Link
https://soundcloud.com/livespot/pana/
Track this story on Twitter and instagram with this hashtag - #Pana
Stay in-touch with Zaina on Twitter and Instagram - @Zainababy
For more information on Zaina please contact - [email protected]
ZAINA 2
ZAINA