The P.A - A Flash Fiction Story From a Renowned writer/author
...A Quick Read Series by Nnenna Uma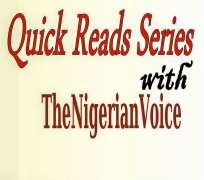 It was a cool July morning at the Rock House. These days I wear at least three clothing. You might consider that a little extreme but I am the one stuck in air-conditioned car, houses and offices all day with my Oga.
"Rajid!" my Oga called. I always wonder why he screams my name. I am not hard of hearing, definitely not impaired in anyway. I scramble out of the car to his side, with my back slightly bent to express my humility. He raises an arm and adjusts his manifold garments still paying attention to his companion. It's strange that a person calls me and then ignores me.
"What is my date of birth?" he asked. The huge man on blue kaftan standing next to him had his phone in hand, his baldness shimmering.
"5th August 1969 sir."
"No, its not. Its 1970."
"Sir, its 1969, I saw it and it's exactly how we wrote it in your credential files."
"I said it is wrong! I told you to change that to 1970. I remember telling you that!" he screamed, he never screams at me when it's just the two of us.
I was sure of the date, it had been 1969 and I cannot remember ever hearing an instruction to make it 1970. The man standing by his side still held the phone and fingers mid-air ready to type. They were trying to set up an email address. Why did he not ask me to do it?
"I can't believe you did not add an email address to the file." the man commented addressing me but looking at my boss who got more infuriated at my incompetence.
"I told him, he always makes mistakes." My Oga responded.
I was right, he was wrong. But since an Oga is never wrong, I have to say he has forgotten. He swings around the car ordering the driver to open the booth and confirm the date of birth among the pile of papers we gather there. Even then I was right, but I couldn't say it that to the man.
"Its 1969 sir," I informed him "but you should ask him maybe he wants another year there." I explained with all humility. A PA never gets angry, we are immune to anger.
How can a person have three birth certificates, mix everything up and blame me? I should know his date of birth, I should know his phone numbers off-hand, I should know what name and phone number his DSTV account is under even though I wasn't there when all that was put in place. I am the boss when he is absent and a puppy in his presence. His friend when we are alone, his dog when other big Ogas come around, If I don't I am incompetent. I do not like it, but I do not hate it. The money is good and the times when I get to be the Oga makes up.