OYO JOURNALISTS PETITION AKALA OVER AIDES' HARASSMENT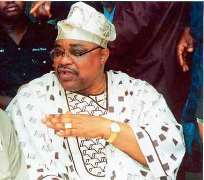 The Correspondents' Chapel of the Nigeria Union of Journalists, Oyo State Council, has petitioned Governor Adebayo Alao-Akala over subtle threats and harassment of their members by the governor's aides and policemen attached to him.
The letter by the Chairman of the Interim Committee of the chapel, Mr. Fela Fashoro; Secretary, Mr. Jide Jegede and a member, Mr. Ade Adeloye, catalogued the incidences that provoked the letter.
Apart from Thursday's failed abduction of the state correspondent of THE PUNCH Newspaper in Ibadan, Mr. Akin Oyedele, the chapel listed two other instances when its members were subjected to intimidation.
It recalled the January 10, 2008 detention for over one hour of the state correspondent of Silverbird Television/Rhythm FM, Mr. Tade Oludayo, with the Lagos-based correspondent of the British Broadcasting Corporation, Mr. Fidelis Mba.
The Aide-de-Camp to the governor was then named as the mastermind of the detention of the journalists at the Government House, Agodi, for taking photographs of the 'Unknown Soldier' statue located at the remembrance arcade located opposite the place.
The same ADC was at the centre of Thursday's ordeal of Oyedele, who was trailed to a cyber café in Ibadan by three detectives based on an alleged information that 'somebody mentioned the name of our governor at the café.'
Also in the petition to the governor was the alleged intimidation of the correspondent of Compass Newspaper, Mr. Ademola Babalola, by a 'senior media aide of the governor' over a story considered offensive.
The chapel said that it decided to raise the alarm following the attempted abduction of Oyedele by three policemen attached to the governor, who lied to have come from the Criminal Investigation Bureau at Eleyele.
In a four-point demand, the chapel demanded an urgent explanation over the incident as it involved the governor's personal security and aides.