NWUDE: US LAWYER WRITES JONATHAN, FAULTS ATTACKS ON RIBADU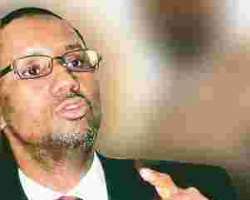 Former Chairman of the Economi
An American lawyer, Mr. William Richey, has faulted the recent attacks on former Chairman of the Economic and Financial Crimes Commission, Mallam Nuhu Ribadu, over the disposal of forfeited assets of some convicts, including Emmanuel Nwude.
In a letter addressed to Acting President Goodluck Jonathan, Richey stated that he led the investigation and prosecution of the worldwide recovery effort that flowed from the 419 theft of $242m by some Nigerians from Branco Noroeste of Brazil.
He added that the criticism of Ribadu, his former Director of Operations, Mr. Ibrahim Lamorde and their officials were without merit.
The American lawyer also sent a copy of the letter to the Attorney-General of the Federation and Minister of Justice, Mr. Mohammed Adoke (SAN).
A copy of the letter was made available to our correspondent in Lagos on Tuesday.
Richey said, 'The criticisms are being levied by the very criminals who were successfully prosecuted and who in the end admitted their guilt in the open court. The confessed lead fraudster agreed to repay $120m as part of his guilty plea.'
He added that it was regrettable that the fraudster was seeking to delay the ultimate forfeiture to the victims of stolen proceeds through the abuse of the appellate process of Nigerian courts.
He further decried the attention given to the fraudster by the current leadership of the EFCC.
On Ribadu and Lamorde's integrity, Richey informed Jonathan, 'The only reason we were willing to bring the 419 theft case for resolution in Nigeria, where it belonged, was because of the good standing and reputation for honesty and integrity of the EFCC and Ribadu with international law enforcement. The convictions and guilty pleas and the recovery of much of the stolen money were a direct result of the hard work, competence and integrity of the EFCC.
'Ribadu and Lamorde are national treasures of Nigeria. They bring honour to the country and are regarded with warmth, admiration and respect by legitimate law enforcement agencies in the US and around the world.'