Nyako's Press Secretary Is Finally Sworn In As Commissioner Of Information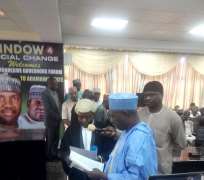 The former Press Secretary during the tenure of Governor Nyako, Comrade Ahmed Sajoh, has finally been sworn in as Commissioner of information after much tussling despite his name on two occasions was stepped down for screening by the state law makers.
Presiding over the ceremony at the council chambers of the Government house in Yola, Governor Muhammadu Umaru Jibrilla said the appointment is well deserved and enjoined the new commissioner to discharge his responsibility to people of the state.
The governor narrated that information ministry is critical to the development of the state and urged the new commissioner to obtain clearance from him or the Secretary to the state government before embarking on any action on behalf of government.
He noted that the choice of Comrade Ahmed Sajo is a collective choice from stakeholders in the state.
In a remark Representative of Speaker of the State House of Assembly Member Representing Mubi and Chairman of integrity group of the House, Abdulrahman Abubakar thanked the governor for swearing in Ahmed Sajo as commissioner for information adding that what transpired was politics in action.
He called on all to join hands to develop the state.
While responding the newly sworn-in commissioner of information, Comrade Ahmed Sajo thanked the governor for the opportunity and assured that the actions of the state government will be projected to other parts of the country.
He narrated that he will not compromise in the discharge of his duties and called for prayers to enable the new administration deliver on its mandate.
The state Attorney General, Barrister Silas Sanga administered the oath of allegiance and office.