New Music Alert! Wyll Diamond Debuts With 'Oluwaloseyi'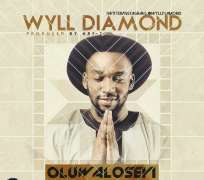 Singer, Songwriter, Celebrity Stylist and Actor, Wyll Diamond is out with his official debut single, 'Oluwaloseyi', produced by the fast-rising HRF-7.
The multi-talented artist who won the title of Mr. LAGOS as well as Business Icon Winner 2015 under the Mr Ideal Nigeria pageantry is one of the most versatile music artistes yet to grace the African music space with a unique blend of Afro-beats, Hip-Hop & RnB as yet to be seen.
His music will pretty much usher in the Neo-classic African contemporary sound the world is waiting for. Wyll Diamond was top 6 Finalists ABUJA, on Project Fame West Africa 2013, Also 4th RUNNER UP on Koga Open House record deal contest in 2013. His performances are popular for holding the crowd.
Despite having made these moves underground; OLUWALOSEYI produced by HRF-7 and SOVIDA boasts to be his first major officially released track for the mainstream; a first stride signalling a return to his first love -Music. At long last, fans of his music get to appreciate what a tremendous talent he truly is. Here goes his Debut single ''OLUWALOSEYI''.
Listen, download and enjoy.
Download & Listen to Wyll Diamond's Oluwaloseyi here: http://bit.ly/Oluwaloseyi
To connect with Wyll Diamond, Follow @WyllDiamond on Twitter & Instagram