Amaechi's Legacy Versus Wike's Profligacy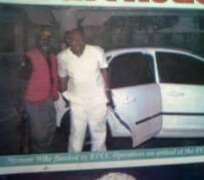 Growing up as a child and coming into maturity without phases of rivallings or quarrels is almost impossible. Disagreements are constants in all social interactions, but with distinctions in management patterns. Principle is the binding course on the conscience of all successful people and groups. People with shaky characters are often denied the good page of history.
I am not about to sing the praises of Rt. Hon. Chibuike Rotimi Amaechi, but I intend to take us through flashes of the past, the present, and the future. This piece is an amateur testament to some undying standard laws of life. As far as I am concerned, history is in the making in Rivers State.
The battle between decency and obscenity, the dramatisation of pot hole filling and miniature community services, the resurrection of 'Port Harcourt bad boys', the re-enactment of 'marching ground' saga, the artistic but illegal conversion of our capital resources, the manipulation of the Judiciary, Media, and every other strata of the society is in top gear.
I was born and bred in Rivers State and I can independently draw a picture of her condition before former Governor Amaechi took over the reins of power. Before Amaechi, our State did not have standard health centres and health care , International standard primary schools, countless number of dualized roads and bridges, international standard stadium with a huge sports village, best ICT compliant University in Nigeria - UST, upgraded traditional institutions, huge investments in agriculture, displacement of criminals from Rivers State, and so many other wonderful good works that will forever share a link with the name 'Amaechi.
Governor Nyesom Wike's pattern of governance is an outdated form of leadership style. People are becoming more liberal, hence the public display of hate and malice is gradually finding its way into the dustbin of history. There is nothing as helly as Wike's attitude towards the legacies of Rt. Hon. Chibuike Rotimi Amaechi. Haba! What did Amaechi do to Wike? Did Amaechi kill Wike's child? How come Wike can host tournaments in the international standard stadium built by Amaechi without recognising the visioner?
Today, Governor Nyesom Wike will mount the stage in the magnificent Obi Wali International Conference Centre that was brought into life by Amaechi. Right on Amaechi's head, in a Communist styled act, Wike intends to reel out his self acclaimed infrastructural development in Rivers State in 100 days with N100 billion Naira. Ah! I remember Sir Dr. Peter Odili and those days when Rivers women and youths used to line up the parking spaces of Port Harcourt International Airport just for political drama, indeed, Dr. Odili is a Master of Political Theatrics.
Governor Wike will entertain his paid audience with tales like, "I reopened the courts that Amaechi shut down", "I constructed 40 roads in hundred days" and so many other absurd and insincere assertions. What Wike fails to understand is that no reasonable and educated Nigerian is daft enough to believe that a Governor in Nigeria has the power to shut down courts or the Judiciary, or magically plant 40 roads in 100 days. What Wike fights too hard to extinguish is the indelible fact that Amaechi's developmental strides are permanent residents on not a few search engines in virtual space, and paragraphs of several told and untold stories.
If Wike is not a hypocrite, then I challenge him to give Amaechi some credit for the Songhai farm, Obiri Ikwerre bridge, model secondary schools, Port Harcourt - Owerri road, free dental health care, advanced educational enhancement amongst many other tangible and intangible long lasting marks of Rotimi Amaechi. I call it a challenge because I know that Amaechi's shine is Wike's worst nightmare.
And within me, I know that between reality and fiction, the former remains the best friend of history.
Follow Solomon Okocha on Twitter @Okocha_info.
Disclaimer:

"The views/contents expressed in this article are the sole responsibility of

Solomon Okocha

and do not necessarily reflect those of The Nigerian Voice. The Nigerian Voice will not be responsible or liable for any inaccurate or incorrect statements contained in this article."