Bindow's Hundred Days In Office: A Lawmaker Rates State High In Terms Of Infrastructural Development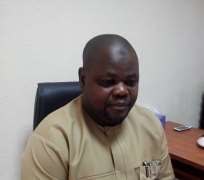 He Is a Member representing Vere constituency in the Adamawa state House of Assembly, Chairing community on Education, is seconding the chairman of Appropriation and Budget community. Abdullahi Umaru Yapak is a member of so many communities in the lawmaking body of Adamawa state Government.
Our correspondent in Yola, TOM GARBA interview him when the state Governor,Muhammadu Umaru Jibrilla Bindow mark his 100 in office and he revealed that Adamawa is moving forward,rating state's achievements under the Governor high and in a right tract to turn it a haven for all in the state.
Q:You are celebrating a 100 days as a ruling party in the state, how do you feel about it?
A: Well I feel good, I fulfilled and feeling great we are taking Nigeria, Adamawa and of course my constituency (Vere) were it ought to be.
Q:Are you saying that the Governor performed credibly well in his three months in office?
A: Our Governor, Governor Bindow for social change has in this three months reshaped so many sector of the state's economy. I traveled all around in this country for the past three months, quote me any where and any how, no Governor has awarded roads contracts like our Governor, this Man always on constant struggles to find ways in which to drive the state where it should be.
Before now you can agree with me our state totally lagging behind in all aspect of life, even our sister state like Taraba have fast gone far in terms of infrastructural development.
With the kind of Man we have as a Governor believe you me in four years Adamawa state will highly compete with other giants state in the country.
This Man is an experienced Business Man, experienced law makers in the National Assembly (Senate).He is humble, so respectful and obedient with a very high listening ability,carefully selected technocrats to work with him to achieve a better goal for Adamawa people. This Man also has a lot of ideas in wealth creation so then tell, what do you want in a leader? Certainly nothing more than this.
This is what I call conglomerates of wealth, with this I assure the people of Adamawa state in four years we shall get there in sha Allah ( by God's infinite mercies)
Q: All of you the lawmakers seems to be singing praises for the Governor why?
Q:Yes our people say "Yabon gwani ya zama dole- meaning a good Man is worthy of praise. Just because I am a lawmaker I should not say what is good? Which governor do I praise now? I should praise the Taraba Governor or El-rufai in Kaduna state, see our Governor is doing well and such we must add more grease to his elbow.
Q: Something will think he has induced you with some financial incentives
A: My brother nothing like inducement from the Governor, beside where is the money to induce us with? Have you forget we are in the change agenda in this country? Things must change to better the life of our people, it never going to be business as usual in this country so who is inducing who?
As a lawmaker I should be able to find a way of boosting my Governor's morale because of his good vision of the state to do more while a concentrate in making laws that will benefit the people of the state.
Q:Generally as a lawmaker your view is that your relationship with Governor is a sweet one
A: Yes it is because the Governor understand his boundaries and we understand our's too, he does not interfere in our duties. We relate in a more define way to achieve a purpose.
Q: Don't you think some will query that you forget about your duties and focused in establishing a good relationship with Governor
A: I want to stress that the legislatives and the executive are not cat and Dogs, they partners in progress for goodness sake and mind you Bindow will never stop us from making laws or stop us from doing our over sight functions, we must check mate him weather he likes it or not, this our primary work.
We must force him back to the right path when is getting it wrong, they world is keen fully looking to see our inputs, our people brought us to the House to defends them so we own them many explanations if we fail to do what is expected of us, above all our God will never forgive us and we will have posterity to contend with
Q:You head the community on Education what are the plans to move the Education sector forward in the state?
A:Thank you for this question, I want to tell the people of Adamawa state I am working toed and nail to see that our Education standard is review from primary schools to all the tertiary institutions we have. Making sure that the right people are there to work. One thing I like in Bindow is that he believe in quality- excellency is his watch dog in all he do.
Right now we are even trying to resolve the issue of those employed some years ago without paying them a dime, a lots of good things are going in the pipe line to change the education sector. Go the state university the VC is doing a nice job there and the same thing with the state polytechnic. In fact my brother there is going to be serious revival in the education sector I assure this.
Q: Any hope in changing the House leadership?
A: For now no hope no plans because we are satisfy with Kabiru Mijinyawa style of leadership, he is a perfect gentle Man speaker we can ever get, I hope to work with him until God says otherwise. Some weeks ago the House unanimously passed a vote of confidence on him it shows that is Man who is good to go with. We relate as friends and family with even those not from our party (None APC) because once you are here is not party affairs is Adamawa affairs from which ever party you come from.
Q: You being doing some projects in your constituency, have you started collecting your constituency projects allowances?
A: Point of correction, the government don't give lawmakers in this state direct money to go and execute a project,I think what we hope to do with the government is to tell them the needs in our various constituencies and they will do it by themselves.
To answer your question proper I am doing that work you heard of with my personal money, sponsoring students, building hand pumps water cistern, hiring teachers to teachh in some communities they lack them and many more that i don't want to mention .my plan is that I will visit the whole of my constituency with my own personal projects before the Government will properly settle down for work. This actually the change we are voted in for, though not really my primary job but our state needs to be touched in all angles in order to bring faster development. The governor can not go round all at once or promise everyone bread and water every day, it must be a gradual process or one thing at a time.
IMG 20150903 124248
IMG 20150903 124302