If It's Good It's Good For Us All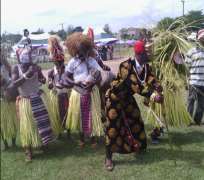 Culture defined as the beliefs, values, behaviour and material objects constitutes a people's way of life. However diversified the definition goes, if it doesn't include "peoples way of life" you earn no score said a history teacher (Mrs Ofili) who would later become a vice principal in 2001.
Therefore, if in practice what we celebrate as culture does not reflect our way of life we head doom-ward convinced upon convictions that freedom means to live free pitch our tents by the side of the sea near its surf to be washed by the spray which by conviction is pretty well forgetting that one day it takes only a wave to wash it away.
This conviction is nothing but a tale told by an idiot that where we come from doesn't mean anything as long as we gaze and focus on where we are going to (most preferably success) so long we make it there.
Unenvious, one must not in a hurry to nowhere forget the inherent attachment of culture with tradition for tradition goes hand-in-hand with culture. Tradition is unsullied whenever it is on display which stimulates ones royal blood with pride and majesty.
Tradition comes handy in style but unique in its form.
Traditional songs and dances for instance reflects the nature of event. One attuned with traditional events at glance will be able to differentiate a particular event of function be it a jubilation or an affliction. Sadly we have lost almost all about our culture coated with the tongue of jet age.
Living in the Eastern Nigeria it is required of one to understand the many anagrams and antinomies of speech.
For example, Echi in some local dialect means tomorrow but (t)here Echi means yesterday.
A place called Ahia in some dialect means a market place and when you get there if it happens not to be a market day you'll find traces to assure you its a market place. But (t)here a place called Ahia may have nothing with the trace of a market. Further more is the letter R pronounced as L vis-à-vis.
Upon this realization, in this festive season of Ìri Ji (new yam festival) seeing youths carrying cutlass to demonstrate jubilation the only interpretation that calls to mind is the pitiable aftermath of what is best considered the extravagance of freedom.
Apart from being disappointed that majority of the youth carrying cutlasses to celebrate this festival Ìri Ji has never been to farm, don't even know the names of yam. One also is disappointed that their songs and dances are nothing close to what should be called festival. Not to mention the absence of a chief which earns the festival a coin of self inflicted irreverence.
Allowing the youth take lead in such festive event as a means of preparing youngsters for tomorrows leadership is good but one must not forget the dangers of sending an underaged child to fetch fire into the tobacco pipe.
In those good days of yore festive events are led by kings and chiefs not youths. Before a youth is deem fit to perform a traditional rite, there are basic requirements that must be met. This requirement could be attained by age, marital statues, recommendable accomplishments like winning a province competition such as wrestling.
How all these faded away is not mysterious but our carelessness to cherish and project what is ours. Shifting the blames on the youths for hijacking things based on youthful impatience will be considered partial if we hastily forget that bad son of a good father, is that son whose good father had also been the bad son of his good father. Generation gap?
With pardons of proximity, It leaves nothing but indelible despair and a boisterous agony to note that the degradation of culture is largely patronised in the East.
What we see today as a belligerent gathering of youth summoned by the calling of festival is not what we use to have in the 80s to mid-90s.
Today, rather have our festivals in peaceful jubilations and merriments, We have all forms of vices, tenacious battle, unforgiven retaliation, and exaggerated superiority of one community over another.
It is our saying that a hen does not forget where she laid her eggs. Another saying goes that who is rejected does not reject himself.
Therefore whoever is a lover of tradition must arise to defend what (s)he believes in. It is our task to do so not the government who abandoned us as modern orphan.
Our Investigators may be right that some of our traditional practices are diabolic. But am sure that not all about our traditional practices are diabolic.
In fact if we are honest, some of our traditional practices best appeals to God (as it is from our undiluted nature, undiluted tongue, undiluted heart) to receive our praises supplications. Such traditional practices must be jealously protected, cherished preserved and conserved.
M'odimma odili anyi.
If it's good it's good for us.
Disclaimer:

"The views/contents expressed in this article are the sole responsibility of

Kenneth Ofuani

and do not necessarily reflect those of The Nigerian Voice. The Nigerian Voice will not be responsible or liable for any inaccurate or incorrect statements contained in this article."