SHAGARI INSTITUTE TO BE REVIVED TO PROMOTE DEMOCRACY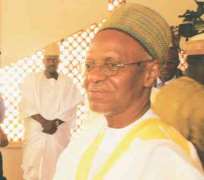 The moribund Shehu Shagari World Institute for Leadership and Good Governance in Nigeria is being revived to promote democracy, responsible leadership and the rule of law.
The Executive Director of the institute, Dr. Zayyanu Umar, told the News Agency of Nigeria in Sokoto on Tuesday that the institute was established in 1997 by the admirers of the second republic President Alhaji Shehu Shagari in recognition and appreciation of his great service to humanity and to promote his lofty ideals.
Umar, a lecturer in the Political Science Department of the Usmanu Danfodiyo University, Sokoto, explained that the institute had been moribund for the past four years.
He said: "We have to utilise the institute in efforts to consolidate the current democratic gains in the country and I believe this should be supported by all well-meaning citizens of the country,''
The institute, he added, would provide the vehicle for the networking of noble ideals "and that is why attempts are being made to re-engineer it .'' (NAN)