GREECE BOND ISSUE CLEARS TEST OF INVESTORS' CONFIDENCE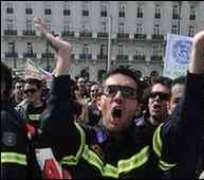 Greek firemen took to the streets in protest at Greece's financial crisis
Greece has raised 1.56bn euros ($2bn; £1.3bn) in an over-subscribed bond issue that was a key test of investor confidence in the debt-laden country.
The issue is Greece's first debt sale since Sunday's agreement by eurozone countries to provide Athens with a financial safety net if it defaults.
However, Greece had to agree to pay a higher rate of return to investors to get the latest bond issue away.
The yield on 12-month bonds was 4.85%, and on 6-month notes it was 4.55%.
This compares with a yield of 2.2% paid on 12-month bills, and 1.38% on 6-month bonds, in an issue it made in January.
Greece's debt management agency had originally sought to raise 1.2bn euros from the issue.
Ben May, an economist at Capital Economics, said the issue looked "pretty successful" and was likely to ease some immediate concerns among investors about Greece's financial health.
"It's a positive endorsement of the [eurozone] bail-out measures that went out over the weekend," Mr May said. "But clearly the yields are still very high… so it does not really change the underlying position that Greece has very tough times ahead."
Solvency challenge
It is thought that Pacific Investment Management (Pimco), the world's biggest investor in bonds, may have shunned the issue.
Mohamed El-Erian, Pimco's chief executive, had earlier told the Reuters news agency that the eurozone's rescue package did not address Greece's fundamental crisis.
"Markets have signalled that Greece faces both refinancing, or liquidity challenges, as well as stock of debt, or solvency challenges," Mr El-Erian said.
"Based on what we know right now, we would not be a buyer [of the Greek bonds]. We are very cautious toward Greece and we are in a 'wait and see' attitude and we would like to see greater evidence of adjustment on Greece," he said.
Greece must raise about 11bn euros by the end of May to refinance maturing debt and interest charges. Its overall 2010 borrowing need is 53bn euros.
Some analysts believe the latest bond issue went smoothly because the treasury bills have short maturities.
However, Greece is soon to raise another 10bn euros via longer-term bills, which will test investors' appetite for locking in their money for a longer period.
On Sunday, eurozone countries and the International Monetary Fund agreed a 30bn euro standby aid package that Greece can call upon should its financial crisis worsen.
'Borrow freely'
The country's finance minister, George Papaconstantinou, said the government would continue to tap the markets for money, rather than draw on the package.
"Our aim remains – and I believe we will continue to do it – to continue to freely borrow from the markets, as wedid today," he said.
"I stress that the Greek government has not requested the activation of this [aid] mechanism, despite that fact that it is immediately available if required," he added.
However, many analysts believe Greece's heavy debt burden means it will eventually be forced to call on the emergency funds. Capital Economics' Mr May believes there is "a strong chance" of this happening.