Meet & Greet In Washington Dc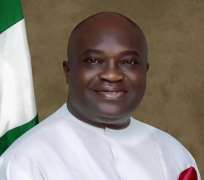 The Governor of Abia State Dr. Victor Okezie Ikpeazu was warmly received yesterday by Abia Professionals living in Washington DC.
The Abia Governor in his usual way, commended Abia professionals for organising such a wonderful interactive gathering.
He explained that Abia State will need the attention, support of every Abian both home and in diaspora to revive her economy. Dr Ikpeazu further stressed that his government is focusing more on urban renewal which will turn around the state economy..
The governor in his closing remark promised the group that Abia State will experience good governance in the days ahead.
The president of Abia Development Union Washington, a former lecturer in Abia State University Dr Domnic Onwukwe had earlier expressed their happiness over his visit to Washington DC saying that himself and his union has followed his good work in the state, promising that his cream of professionals are willing and ready to contribute to this great revival project if given the chance.
in attendance were potential foreign investors who will meet the governor as scheduled.