Pastor Chris Okotie Replies Emeka Ike: I'm Not Dating Ur Wife, Stop Blaming Me 4 Ur Marriage Problem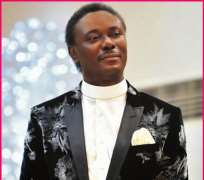 Yesterday, Nollywood actor Emeka Ike accused Household of God founder, Chris Okotie of trying to break his marriage.In his official press statement, Emeka Ike claims Okotie helped his wife hire a lawyer to speed up his divorce case but speaking through his media consultant in a telephone interview yesterday, Chris
Okotie said Emeka Ike's allegations were so baseless that the he was not prepared to dignify them with a comment.
Hear what Okotie told Emeka Ike through his media spokesman:
"There is nothing to what he is saying. It is total rubbish. What is he saying? Why will the pastor be interested in his domestic issue? Will he say he wants to marry the woman?
"What kind of man will be saying that kind of things on the Internet? Why is it that each time any of them has any issue they always want to bring Okotie into it? Responding to the outburst will only make the guy feel important. The pastor can't dignify him with any."