DJ Jimmy Jatt's Biggest Edition Of Jimmy's Jump Off Is Here - "The Festival"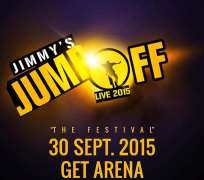 Legendary Cool DJ Jimmy Jatt is back with this year's edition of Jimmy's Jump Off tagged "The Festival".
The event is set to take place on Wednesday 30th September 2015 at the GET Arena, Victoria Island Lagos.
The ground breaking event which is referred to as "Naija's biggest DJ event" will feature more than 20 top DJs.
"I'm glad we are at that time of the year again, where talents in the entertainment industry come together to give their fans a good time."
said the excited DJ Jimmy Jatt. "This year's event is bigger and promises to be better than anything you've seen".
In the coming weeks, Cool DJ Jimmy Jatt will be announcing the names of more than 20 top artists that will make this music sensation unforgettable.
Get ready!
About Jimmy Jatt
Jimmy Adewale Amu, popularly known as Cool Dj Jimmy Jatt is a renowned Disc Jockey who is known for setting the pace for Hip hop music in the country and beyond. An icon in the Nigerian entertainment industry, he has helped nurture many deejays amongst whom are Dj Waxxy, Dj Syl-D, Dj
Funky J, Mix Master Tee, Dj Osar, Dj Hotega, Dj Tony Blaise, Dj XGee to mention a few. His first single 'Stylee' featuring Tu Face Idibia, Mode 9 and Elajoe enjoyed heavy airplay and the music video stayed on the MTV Africa countdown for weeks. This earned him several awards like Channel
O Africa Music Video Award, Hip hop World Award, SoundCity Music Video Award, Nigerian Music Video Award and Nigerian Music Award nominations.
He has an album 'The Definition' which is a mix tape featuring over 50 of Nigerian's best artistes. Dj Jimmy Jatt has a T.V programme called 'Jimmy's Jump Off' currently airing on local and international stations.
About Red Communication
Red Communication is a PR & Communication firm under the parent company, RED. An innovative media group focused on Africa, RED's vision
is to excite and empower an evolving generation through the media's limitless possibilities. Built across tools and platforms, its
Communication Division holds Red Communication, Red Marketing and Small & Medium, and YouthConnect; and its Content Division holds the Y! brands, including Y! TV, Y! Magazine, YNaija.com, Teen Y!, Y! 2015, the Y! Tech 100 and the Y! Annual Black Ball/Y! 100 Most Influential List. It also anchors a development firm, The Future Project Africa, which co-presents Africa's leading youth platform, The Future Awards Africa, and other projects including the Nigeria Symposium for Young & Emerging Leaders and The Future Enterprise Support Scheme.