​The Appointment Of Babachir David Lawal: A Plus Advantage To Adamawa State—SSG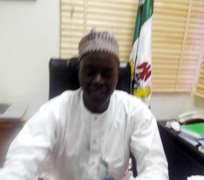 Call him a Brain Box of administration or engine room of knowledge in terms of leadership qualities who stick to principles and ethics of good Governance.
The man many see as a walking encyclopedia of administration whose hard work earned him a big name, this is no other person than Dr Umar Bindir the secretary (SSG) to the Adamawa state Government who was interview by TOM GARBA during the swearing-in ceremony of 22 commissioners of Adamawa state Government by Senator Umaru Jibrilla Bindow, the executive Governor of the state, spoke on the recent appointment of Engr. B D Lawal as the new Secretary of Government of the Federation (SGF), clear the air on the last statement made by chief of Staff, Abdulrahaman Abba Jimeta that result to a hited debate by many corners of the state and explained why the selection of the calibre of commissioners to form the cabinet of the state Government and many more issues excerpts
Q: Sir how is your feelings on the recent appointment of Engr B D Lawal as the secretary to the Government of the Federation (SGF)?
SSG: While this is an exciting development because we have one of the federal public servants at the top level who is the son of Adamawa soil, we found an element that can unleashed many things to the energy development of the state. Secondly, we are Happy for him, he has been there politically now as a public servant he will complete the circuits of development to the over roll benefit of the country. With the pasture of the president who is pushing social change in a transparent way with very low or zero tolerance to corruption with capacity to harness untapped resources to develop the country, so naturally as a people of Adamawa state we are happy.
Q:Should there be any call to pick out of the state for national assignment,what will be your reaction
SSG: Subject matter of public service is about public service you give your best to the people doesn't matter how it comes, the way and manner I became the secretary to the government of Adamawa is certainly by the grace of God,even then the way i became the director general of national office of technology aquizision and promotion, it was by the grace of God and therefore any thing that comes my way to serve my people I will traditional take it whole heartily.
I am one that is always prepare to deployed my total energy what come my way you can be rest sure is totally taken as a social and public thing and my professional Knowledge is help me do the best, so this is not new to me I am ready to serve at all times and at whatever level and probably is not going to be the last.
Q: Your principal sworn-in a cabinet of 22 commissioners today how will this effect the general public of the state who are yearning for change?
SSG: As you know Adamawa is yearning for development this is probably one of the weakest state if you look at the poverty incidence in Adamawa state we are very very weak, our infrastructures are very weak, we have experienced the most unfortunate situation in the country, where the state is been attacked by insurgents caused a serious underdevelopment and every year during the rainy season is one story of flooding of the order with many farmlands and Houses submerged by floods.
However,the opportunities in this state are also enormous, it is only in Adamawa state that you will find top management public servants from chief through Directors to Directors,deputy Directors,permanent secretary and deputy permanent Secretary. Over 90% of poll of those public servants are actually graduate of university Education which is rare, Secondly our diversity is enormous to me is an opportunity untapped, third Adamawa people are not known for been hungry and we will never be hungry by God's grace reasons being we are subsistence farmers, we have wide range of arable lands where legumes and three crops can grow another opportunity yet untapped. We have the river and waters around us a big opportunity to tap.
The only problem Adamawa state is having is leadership problem, but thank God for the leadership of Senator Mohammadu Umaru Jibrila Bindow he has already started show casing some innovative leadership, this is somebody who call his team the dream team comprising of Young people with high technical know how to drive the state in a safer ground.
He has sworn-in 22 commissioners today composed of high group of intellect,during a meeting they had the governor was very transparent to them, give them a go ahead to bring every of their knowledge to the development of the state. I am excited to be part of this team. I am anxious to answer the clarion call of the Bindow Social Change, to change the state socially, economically and structurally. He has started some roads network in the city, hoping that in few years to come Adamawa state will be fully network with roads with good electricity.
So in a nutshell I cannot be at home at any better time, I think and hope I am right as we are look towards a better change. We have a very high order in terms of performance indicator.
Q: A comments made by the chief of staff some few weeks ago that your Governor is going to hire Pastors and Imams to be praying for him to the tune of 200million naira is now generating a hit debate both within and outside the state.
SSG: Let me tell you one thing I have not seen a human being who has put everything atom of energy he has more than Abdulrahaman Abba Jimeta, this a very hard working young man, is very articulate and is very neck deep into the politics of Adamawa state. He is what I call the total local politician in the state, very useful. However he is a resource that must be managed well and what was attributed to budgeted 200million naira to hire Mallams and Pastors I think was completely misconstrued, one of the problem communicating in social media either in English, Hausa or Fulfulde once you are misunderstood of an issue,it can actually mar the entire original intention of the whole issue.
Adamawa is rich in Tribal,regional culture,and religion diversity. What the chief of staff is trying to say is that all hand must be on deck, I.e the Pastors, Imams, Youths leaders and woman leaders must be mobilised so that word mobilised to some people means funding. He actually means people should be security conscious, If an Imam will have an opportunity on Friday please inject issues of security concern like wise Pastors who always face their faithful Congregation on Sunday please inject issues of security consciousness so goes down to all form of leadership in the state.
But because mobilization in the context of politics means financial investment that is probably went out of shape. I can assure you the chief of staff in person of Abdulrahaman Abba Jimeta is a very kind Man, a very hard working Man as am talking you that particular misunderstanding has actually broken his heart and I feel it too it is also broken my heart. However we are all human beings we learn from our experiences which I know he did, i learned from the experience too. It also means when you take leadership it has a price you must pay at one point of the other.
Q: Sir you mean is regretting his statement?
SSG: I think i have a feeling yes, he did not make the statement and regret it but i think the public perception on what is trying to explain made him feel very bad and may be he would have say it in different ways. As the SSG I can assure you there is no 200million naira to start given to Imams and Pastors, no 200milion naira align to the issues of security to me is a regrettable issue and we all learn from our experiences.
Q: Is that why he's not been coming for any state functions like before?
SSG: Like any human being IG something of this nature happens to you, you slow down, review steps ,realign and panal-beat yourself for better operations. Abdulrahaman is public figure he can shy away from public.
Q:Is not been caged out of the system as many presume it to be
SSG: No!no! Abdulraham is still part of this Government, as a top member of the management team no body has ever tell me this. Beside Governor Bindow is not that kind person if he does not like you from day one you will know. The Governor body language and all behaviour still speaks that Abdulrahaman is strongly part of this Government.