Bindow Urges Commissioners To Be Loyal To The People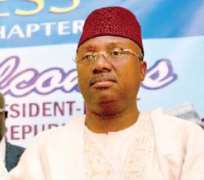 The executive Governor of Adamawa state, Jibrilla Bindow has on Friday sworn-in 22 commissioners urging them to be loyal to the people of the state.
He said that their loyalty to the people would be judged by their commitment to contribute selflessly to the development of the state.
He also advised the cabinet members to uphold their integrity before the public, adding that their oath would haunt them if they would renege from the tenants of oath taking.
According to him, I have selected you base on your perceive determination and commitment to deliver the dividends of democracy to the people.
He urged them to be committed to the change philosophy as well as the reconstruction of the state into a ``new Adamawa state''.
``I want you to be loyal to the people because they have voted us into power.
``I carefully selected you based on your determination to reconstruct our dear state into a new Adamawa of our dream.
``I also urge you to uphold your integrity and demonstrate your commitment towards the realization of our vision for this state.''
The governor also urged commissioners to work as a team irrespective of their individual portfolio to achieve the goal of reconstructing the state.
Bindow also advised them to bring their wealth of experience and vast knowledge in deferent fields of endeavor to move the state to the next level.
One of the newly sworn-on commissioners,Hon Yayaji Mijinyawa Ibrahim responded to our reporter said " Its time for change and is glad to be part of Bindows cabinet"
Ibrahim who was one time APC gubernatorial contested along side with Bindow and lost thanked the governor for finding them worthy of appointment as members of the state executive council.Promise to work hard in order to bring rapid development in the state.
Mijinyawa assured the governor and the people of the state for their collective zeal to turn the state around.
He said that the current change trend would be experienced by the people in a positive manner.
.
The governor directed Dr Umar Bindir, Secretary to the State Government (SSG) to assign portfolio to the newly sworn in commissioners immediately after the occasion.