Corruption: CSOs Seek Speedy Passage Of Whistle Blower Protection Bill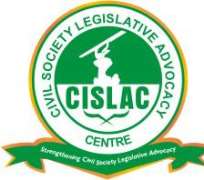 A coalition of Civil Society Organisation (CSOs) has warned that except there is adequate protection for whistle blowers, the effort of Buhari administration to tackle corruption may just not yield the desired result.
Speaking on Tuesday on behalf of the 17 CSOs present at a press briefing in Abuja, Executive Director, Executive Director, Civil Society Legislative Advocacy Centre (CISLAC), Auwal Ibrahim Musa (Rafsanjani), said that passage of the Whistle Blower Protection Bill by the National Assembly will go a long way in the anti corruption fight.
Citing the case of the Permanent Secretary Of the ministry of Niger Delta, Mrs. Fatima Bamidele,,whose life is under threat for exposing corruption and mismanagement of public funds placed at the disposal of the Ministry, the CSOs said "Whistleblowers are hitherto perceived as disloyal employees and troublemakers, who are out to unveil all manners of corruption practices in secrecy.
Reporting misconduct has caused some employees to be victimized by their employers as well as fellow employees, thus employees generally do not feel protected enough to come forward with information on misconducts and corrupt practices."
The Permanent Secretary had, while briefing President Muhammadu Buhari at the Presidential Villa in July 2015, lamented lack of capital funding for the ministry since August 2014, owing to the slash of percentage of releases from the federal government coffers. This according to her has stalled a lot of projects and resulted in accumulation of liabilities by the Ministry.
"Apart from Mrs. Bamidele, it would be recalled that in August, 2011, a staff of the National Women Development Centre, Abuja was unlawfully dismissed from service for exposing N300million meant for poverty alleviation programme allegedly embezzled by some top officers at the Centre and it took spirited interventions of some civil society organizations to have him reinstated.
"Also in November 2012, the Executive Director of Technical Services of the Nigerian Communications Commission (NCC), was relieved of his position under controversial circumstances for disclosing information related to corruption in Commission.
"Similarly, in 2014, the exposure of wastefulness and mismanagement in the Aviation sector by a staff of the Ministry of Aviation has posed some threats against his job and life,"the coalition said.
While saying that the fraud network is busy trying to damage her reputation by sponsoring multiple unsubstantiated allegations and paying some faceless, rented and paid agitators to silence her and other patriotic Nigerians from further disclosure of fraudulent activities within their respective Ministries, Departments and Agencies, Rafsanjani noted that the "intensity and implications of corrupt practices in the country has brought to the fore, the importance of adequate protection for whistle-blowers."
Though whistleblowing would have gone a long way at exposing all manner of corrupt practices in the nation's socio-political and economic atmospheres, the absence of enabling legislation to protect whistle-blowers restricts sincere effort at exposing corruption.
The CSOs lamented the "unwarranted and unjustified removal of whistleblowers from office is a serious factor contributing to atrocious illegalities and impunity by some individuals, and accumulating in monumental fraud that rewards socio-economic and political prosperity of the country. We have noticed persistent threat as a deliberate attempt to silence whistleblowers in the country.
The coalition therefore, called on "President Muhammadu Buhari to bring to book all persons involved in looting of Niger Delta Ministry's treasury and all other public places and consider prompt activation and passage of Whistle Blower Protection Bill, to safeguard the lives of whistleblowers and complement the administration's ongoing effort at combating corruption.
"This Enabling legislation will motivate, encourage and assure whistleblowers that government and its agencies are willing and committed to fighting corruption and corrupt practices in its entire ramification. We recall that the president, during his electoral campaign and in his 100 days Covenant with Nigerians had promised to work with the National Assembly towards the immediate enactment of a Whistle Blower Act.
"We call on ICPC and EFCC to: strengthen whistleblowing mechanisms within public offices using Anti-corruption and Transparency Monitoring Units; institute an open-door policy that encourages employees to speak with their superiors and express their concerns; encourage anonymous reporting to protect the whistleblower's identity. The ultimate protection, in this regard lies with appropriate legislation and a vibrant judicial system.
"We urge ICPC and EFCC to work closely with dedicated CSOs on anti-corruption to promote whistleblowing and provide dedicated hotline for reporting corruption cases. We encourage all government agencies on compliance with the provisions of Freedom of Information (FOI) Act to minimize corruption and secrecy that impair good governance, transparency and openness," Rafsanjani said.
The coalition of Civil Societies also used the occasion to warn over the operation of people who masquerade themselves as Civil Society Organisation shielding people indicted for corruption.
"These are not Civil Society groups but self-serving groups and individuals with ulterior motives, as no credible civil society organisations would promote looters and threaten Whistle Blowers.
We therefore urge relevant authorities, media and the general public to maintain proper surveillance and exhaustive interrogation prior to engaging unidentified civil society groups to avoid falling victim of malicious and unsubstantiated allegations.