'WHY I DUMPED LAW'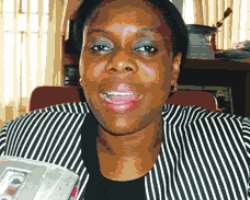 •Chiejina
Barrister Hazel Ifenyinwa Chiejina, Vice-Chairman of Pine Crest Group of Schools Enugu has a passion for education. The lawyer-turned educationist, who started teaching at the age of 10, said she enjoys going to school, sitting down in the class, listening, and engaging in other school activities.
A 1984 Law graduate, Chiejina in an interview with Daily Sun said: 'Right from childhood, I have always loved children and when I was growing up I used to teach children.'
How the journey started
My first degree was in Geography from the University of Nigeria, Nsukka. After that, I did a postgraduate diploma in Education, with the then Anambra State University of Science and Technology and afterwards I went back to school to read Law and was called to bar. But there has always been that burning desire to run a school; and in-fact when my husband proposed to me I made him understand that I intended to run a school. I had to make him understand this was my passion in case he had other plans.
Even at the law school, while my mates were buying books and journals like: The Nigeria Weekly Law Reports, I was busy buying story books; and my classmates would marvel and say to me, 'what are you doing with Cinderella, what are you doing with Beauty and the Beast, Little Red Riding Hoods', these are children's books and I will tell them not to worry that they will get the story one day. So I kept buying my books until October 8, 2001 when Pine Crest was born. The amazing thing was that we started with just four children and one building; we started with the Nursery and Primary school.
With time when people saw that there was genuine interest and that our hearts were in what we were doing, they started having confidence in us. We continued to improve and more children kept coming and that's how we have full Nursery and eventually a full Primary School and then from there to College. It has taken us nine years to get to where we are today.
We set out to be the best
I have no regrets after these years because there is nothing like going after your heart's desire. I was set apart by God for education and that was why I started teaching when I was ten years. It comes naturally and I am a very meticulous person. In everything we do in school…in fact they say I am a perfectionist. My late mother was like that, so it is an attribute I got from my mum. I don't believe in half measure. I believe that anything worth doing is worth doing well and so I set up the school to be the best in all ramifications.
Education not only about reading and writing
A school cannot be complete with just teaching the children how to read and write. There are other attributes that make up an individual, that make up a total child and that's why the motto of our school is: 'Building the Best for the total Child.' So in our school, we try to balance all the attributes. We achieve this through serious academic work. We are also very serious with the children's social life which includes: music, dancing, sports, interaction, speaking in public among others. We try to teach the children in the most practical way. That's why we have laboratories for different subjects. Here, we try to do things in the most practical way, creating different labs for different subjects including Integrated Science and we have an audio-visual room where the children come and are able to see visually what they have learnt in the class.
Every School in Enugu was using black board
I remember when we started, every school in Enugu was using blackboard with charcoal. We were the first to use white boards, but I thank God today most schools use white boards and now there are interactive boards which we are in the process of acquiring. They are quite expensive but of course that is investing in your heart, and we are determined to give the children the best. There are other facilities like the language lab and food and nutrition lab. The important thing is to have knowledge of these things and then have the heart to invest in those things like we have a full fledged orchestra. We have a grand piano, we have an assemblage of violin, viola, trombone, trumpet, saxophone, flutes, and all sorts of instruments that make up the orchestra.
Problem with public schools?
You cannot compare public schools with a private enterprise, you can't compare them because that private enterprise is like your life. Like now, I don't have any other business, I don't have a salon, I don't have a hotel, I don't have anything, I am running this school. If you come here everyday, you will see me I am involved. I teach, I set exams, I vet scripts, I look at the scheme of work, we do curriculum review, we train teachers, it's my passion, I love it.
There is nothing like doing what you love doing and that is part of the reason I am not practicing law because of the satisfaction I get from educating children. A child comes into your school maybe two years old, cannot read nor write, and in a few years may be before five, he can read, talk, draw, paint, colour, oh my God…then you can imagine when the child graduates. You know one thing, I have more than 400 students and you don't know what they are going to be tomorrow, so I love what I'm doing.