Finding The Perfect Budget Hotel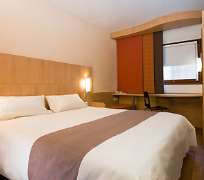 For many business travellers, the costs of accommodation often stand as a challenge to fulfilling the plans for trips as they either speed up meetings to ensure they return to their original destinations before the day's end or choose to conduct the interactions via the internet.
Inasmuch as the internet is becoming increasingly useful in Africa especially when it comes to cutting costs, it is safe to say that nothing beats the old-fashioned one-on-one meeting. It actually takes a real-life encounter with potential associates to have the assuredness of conducting businesses with them. Thus in order to get the most out of business meetings - making a good impression and having a good perception of a potential partner, physical contact is often necessary. Jovago examines four tips to consider when on the search for the perfect budget hotel to suit specific travel needs.
Match good price with quality
Getting the perfect budget hotel would involve having to match good price with good quality. The equilibrium between price and quality is often tricky to reach but anticipation is key when looking for accommodation that fits within one's set budget. Great deals are often available online and it's necessary to sort through the several deals and find that which is the most suitable.
Reviews are important
Since budget hotels are often patronised, there is a higher probability that they would have a vast range of reviews. In the process of the search, it is often advisable to look at the reviews of the hotel and its services, this would help determine which strengths one would enjoy and weaknesses that are utterly unacceptable.
Amenities with little to no cost
As business travelers, certain amenities are a must-have and it is important to look out for these in the process of searching for the most suitable budget hotel. This is not quite as difficult as it may seem as parameters could be set to allow the search for hotels with the particular amenities and price that suits one's travel needs.
Good space and modest accommodation
To secure a modest accommodation, looking through the pictures of the desired room may be enough to convince one to stay but the reviews would also come in handy to get a genuine feel of the pros and cons and decide which ones are bearable or otherwise.
What methods have helped you find your perfect budget hotel?
About Jovago
Jovago.com is an online hotel booking service with offices in Lagos (Nigeria), Nairobi (Kenya), Dakar (Senegal) founded by Africa Internet Group and has MTN and Millicom as investors. Jovago.com, Africa's No.1 booking website, facilitates the booking process for its users to provide them with the best hotel booking experience with fast, transparent and easy-to-use services. Jovago.com has over 25,000 local hotel listings across Africa and over 200,000 hotels around the world.
Follow on Twitter: @jovagotravel
Like on Facebook: https://www.facebook.com/jovago.com
For more information, contact:
Motunrayo Shafau,
Public Relations
Skype ID: tunrayos
www.jovago.com