Below Is A Political Tutorial For The Ignoramus On @Bukol Saraki And @Asiwaju Tinubu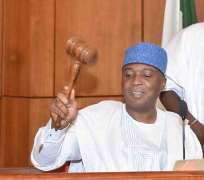 Earlier yesterday, I opined when the media was busy with imaginations of some parochial minds that Saraki went ahead to beg Tinubu, that Saraki I know is not a panicky man, though a lover of peace and progress and Senate Presidency/NASS is so mighty and independent that even he doesn't officially need Buhari but Buhari needs him before his agenda can be passed and enacted into laws.
Reason being that 'this is democracy not military regime' and President Buhari isn't above Nigeria Constitution, let alone Tinubu. Later on media, a news which justified my claim sprang up on one of our national dailies ane social media that Tinubu has started lobbying his man, Fowler who was named by Buhari as Federal Inland Revenue Service boss but must be confirmed by the Senate according to the constitution of Federal Republic of Nigeria. The earlier and and later pieces are as quoted below:
"@BUKOLASARAKI'S RECONCILIATORY MOVE WITH @ASIWAJUTINUBU: A COMPORTMENT OF TRUE NATIONALIST
By Bashir Akanbi
Politics de facto, is a game of wit which qualifies some of its triumphant players into crackerjack level while those at the losing ends remain amateur in the eyes of the public. I ordinarily would not have revisited some of the political twists that were at the front burner before and after June 9 National Assembly Inauguration which nearly shattered the change which our angelic party represents, since majority of the aggrieved lawmakers are now in a smooth rapport with the Senate President and Chairman of the 8th National Assembly. As a patriotic Nigerian, it is high time one told the ill informed Nigerians that a nation filled with perpetual politicking or games of wit will either be in moribund or decline in Progress. So that forms the basis of my short tutorial for the wailers wailing over a black-eying news on Punch Newspaper and other anti-Saraki platforms claiming Saraki is begging some of his antagonists. Peace reigning is apparently, one of the reasons why the fearless and independent Senate President, Sen. Saraki sounded a reconciliatory melody to former Governor of Lagos state and a national leader of APC, Sen. Bola Tinubu popularly called Jagaban, who was the strongest antagonist to Saraki's senate presidential ambition.
To put the record straight, Saraki has always been an overpass architect as far as our Nigeria politics is concerned. Senator Bukola Saraki's pedigree and antecedents on this harmonious step, speak volumes for him. Verily, his move towards Jagaban in this milieu, couldn't have been seen as an antic of cowardice but somewhat should be viewed from the angle of his being a decent, civilised and nationalistic person who has the love of the Nation at heart and is ready to do everything possible at all times, to move Nigeria forward. He has demonstrated that he is a true Nationalist who after being a victor in his ambition, lowers himself for the powers that be so that Nigeria can work as expected by Nigerians. Begging as they referred to it as, amused me when i saw it flying media this morning. The questions i asked myself were, is Tinubu a Senator? Haven't Unity Forum Senators that supported Lawan been lobbying and accepting Committees and leadership positions? Will Tinubu ask his nominees for ministerial appointments and others like the newly appointed acting FIRS boss, Fowler, not to be screened and bow before Saraki as constitution provided? May be until the answers to those questions turned 'YES', the word 'Begging' can then be aptly used.
Despite severe distractions orchestrated by external and influential politicians from APC camps since his in-house NASS poll triumph, he has demonstrated several rare qualities by the way and manner he was able to run the Senate, such that within a short period of his assumption of the leadership of the Senate, he was able to get hold of over two third of majority votes of the Senators in the vote of confidence passed by the 81 Members. In fact, it was that vote of confidence that vindicated Saraki as his proclaimed 35 APC supporting Senators later surfaced out of the 81 remaining 46 PDP Senators. So, the anti-Saraki advocates who make the ground seems hot for him to the outside world should know that they are holding the wrong end of the stick. Meanwhile, the Senate is fully at work and some giant and monumental achievements like electricity fixed charge regulation, NorthEast mayhem's oversight function and federal government agencies' regulations among others are made already, amidst President Buhari's hold-up of Cabinets and Executive setting till perhaps later this year. To some of the chief ignorant Nigerians who spite gibberish on NASS's recesses, they should now learn easily that apart from lawmaking, Legislators also check executive not civil servants headed by permanent secretaries, as we have now.
Nonetheless, it is hoped that with the hands of brotherhood Saraki is extending to Tinubu, he should rather take it as a courageous act from a humble and descent man who would like to make peace with him, despite all the precedent calumnious campaigns and instigated oppositions from different digs against him by Asiwaju Tinubu, his paid dogs and others paid by Saraki's perceived opponents to blackmail him. It will be of Nigeria's interest for Tinubu to accept the Senate President's overtures and agree to support and cooperate with him henceforth, in his zeal to lead National Assembly, in partnership with President Muhammad Buhari and the APC to move Nigeria forward towards copious prosperity. If this harmonious move by Saraki is not curtailed by Tinubu and Co and Nigeria is free of politicking for dominance of all times, perhaps we have an excellently working Nigeria under president Buhari and Saraki."
Also, later yesterday I read from one of our national dailies, Thisday news paper as quoted below:
"@ASIWAJUTINUBU LOBBIES @BUKOLASARAKI, EKWEREMADU, OTHER SENATORS OVER FOWLER
Culled from Thisday
Following the nomination of Mr. Babatunde Fowler by President Muhammadu Buhari as the Executive Chairman of the Federal Inland Revenue Service (FIRS), the stage has been set for a leader of the All Progressives Congress (APC), Senator Bola Ahmed Tinubu, to contend with the leadership of the Senate with whom he has been at loggerheads since its emergence last June.
As required by law, Fowler would have to be confirmed by the Senate before he can head the FIRS. Should his nomination be rejected by the Senate, Buhari would either have submit another name to replace him or allow the current acting chairman Samuel Olugbesan to continue in the capacity.
But with the nomination of Fowler, a well known associate and protégé of Tinubu who served for nine years as the Chairman of the Lagos Board of Inland Revenue (LBIR), the former Lagos State governor would have to come face-to-face with Senate President Bukola Saraki and his deputy Ike Ekweremadu.
There has been no love lost between the Senate President and Tinubu since the former defied the dictates of the ruling party by contesting and clinching the Senate Presidency.
Tinubu had backed Senator Ahmed Lawan for the post but lost out when a meeting was set up at the International Conference Centre, Abuja, between several APC senators and Buhari, to coincide with the inauguration of the Eighth Senate.
Their absence from the Senate chamber on the day of the inauguration paved the way for Saraki and Ekweremadu to win the election unchallenged.
Ever since, the Senate has been polarised between Saraki's loyalists under the auspices of Senators of Like Minds and Ahmed's supporters known as the Unity Forum.
Ahead of the submission of Fowler's name for Senate screening, THISDAY learnt that Tinubu has started reaching out to senators, particularly those in the Senators of Like Minds group loyal to Saraki and the Peoples Democratic Party (PDP).
Until Fowler's nomination, the position was vacant because the last nominee whose name was sent to the Senate by former President Goodluck Jonathan, Mrs. Mfon Akpan from Akwa Ibom State following a recruitment exercise, was rejected by the lawmakers.
Concerns that Fowler may suffer the same fate as Akpan has galvanised Tinubu and compelled him to reach out to key senators who are close to Saraki with a view to both resolving the crisis in the Senate in which he is believed to be the sponsor of the Lawan group, and to ensure that the long-drawn out feud in the Senate does not affect other close associates who may be sent to the upper chamber for confirmation for top executive positions.
A source said depending on how Tinubu plays his cards, his overture to the senators could either help to resolve the contending issues between the two groups or deepen the division in the Senate.
But many pro-Saraki senators, particularly the 81 who signed the vote of confidence on the Senate President on July 28 are already spoiling for a fight.
"This is payback time for Asiwaju for all his machinations against the Senate since he could not get his candidate to become Senate President. This is an opportunity to force Tinubu to the table and mend bridges or break them further," said a senator close to Saraki.
The pro-Saraki senators are also angling to move against Fowler because they believe Tinubu is scheming to take control of the country's finances under the Buhari administration without the president realising the game plan.
According to a senator from Bauchi State, the plot by the former governor of Lagos State is to get Fowler into FIRS and also make another of his protégés, Mr. Olawale Edun, who served as his Commissioner for Economic Development, to become the Minister of Finance, thereby seizing control of the economic machinery of the government.
Edun, according to the senator who preferred not to be named, will be presented as the ministerial nominee from Ogun State, a development which has pitted Tinubu against Governor Ibikunle Amosun
Amosun is said to have insisted that Edun has never associated with Ogun State and could not be expected to take the biggest federal appointment due to the state.
Many of the senators close to Saraki are said to be getting ready to ensure they use the rejection of Fowler's nomination as a clear signal that the crisis in the Senate has not been due to the protection of any party supremacy but the political interest of Tinubu.
Sources also disclosed that one other reason that compelled the former Lagos governor to reach out to Saraki's loyalists is the Babatunde Fashola issue.
While Tinubu does not want his successor to be nominated as minister, Buhari's body language indicates that he is still not convinced by the ongoing campaign to denigrate Fashola and project him as one who is not good enough for the administration.
Tinubu's plan, alleged a source, is to stop Fashola during the Senate confirmation hearing in the event Buhari nominates the immediate past governor of Lagos by getting the three senators from the state – Oluremi Tinubu, Gbenga Ashafa and Olamilekan Adeola – to oppose his candidacy.
"He is however afraid that that plan will only work if the Senate President buys into the plan, as Saraki can overrule the objection of the three senators and get majority of the senators to clear Fashola like they did a few months ago for Musiliu Obanikoro when Senator David Mark was Senate President.
"Tinubu particularly believes that Saraki has a soft spot for Fashola and that the two men are associates. The fact that though the Senate President is abroad, he sent his deputy chief of staff, Gbenga Makanjuola, to attend last week's book launch in honour of Fashola also lends credence to the fear that no plan to stop Fashola will succeed in the Senate except Saraki and his loyalists buy into it," a senator from Zamfara said.
"There must be a trade-off as we get to the period of ministerial nominations and confirmation hearings. What we do not like is this idea of running with the hare and hunting with the hounds.
"Those who need us for their own interests, different from the interest of President Buhari are now making it look like we need them. They have continued to create enmity between the Senate and the presidency. Now, they are playing a different game," a senator from Delta State said."
Who is now more powerful? Somebody should tell the Jagaban of nonsense that his Agbalagba should stop to shee langbalagba.
Disclaimer:

"The views/contents expressed in this article are the sole responsibility of

Bashir Akanbi

and do not necessarily reflect those of The Nigerian Voice. The Nigerian Voice will not be responsible or liable for any inaccurate or incorrect statements contained in this article."