CHILD MURDER: Former Jigawa Commissioner Bags Life Imprisonment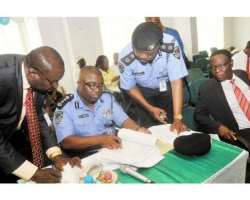 PHOTO: POLICE INSPECTOR GENERAL OGBONNAYA ONOVO GOING THROUGH SOME DOCUMENTS AT A BRIEFING LAST YEAR.
Abuja Jan 5, (THEWILL) - Former Jigawa State Commissioner for Information, Alhaji Abba Umar Kukuma, was yesterday sentenced to life imprisonment by the Jigawa state High Court sitting in Ringim, for his alleged involvement in the killing of two children; four year old, Aminu Bala and three year old, Abba Magaji.
Kukuma was a commissioner in past Governor Ibrahim Saminu Turaki's administration.
The former commissioner was alleged to have killed two children found in the trunk of his car sometime in August 2008. He was charged alongside one Alhaji Hamza Muhammad for their murder.
Both men were found guilty of conspiracy and murder, punishable by death under Sections 97 and 221 of the Penal Code.
Justice Ahmad Isa in his ruling said:
"After reviewing judgments of similar nature, this honourable court has found the accused persons guilty of the charges levelled against them, but owing to the lack of direct evidence that could link the accused persons to the murder of the two children, the court relied on Section 222 of the Penal Code and sentenced the two accused persons to life imprisonment.
"No satisfactory explanation was given to the court by the accused persons and/or their counsel that could enable this court hold that the evidences tendered by the prosecution counsel were weak enough to rely upon to convict the accused persons".
"The prosecution counsel has proved to the court beyond reasonable doubt that, the corpses of the two children were found in the car boot of the first accused person; that the two accused persons conspired to evacuate the corpses and dumped same along Kano-Birnin-Kudu highway, and the accused persons concealed facts to police for not reporting the matter to police," he added.
Reacting to the judgment, counsel to the two accused persons, Barrister Adamu Abubakar said his clients would appeal the ruling at the Kaduna Division of the Appeal Court immediately.
Angry youths in Birnin Kudu, Jigawa State had in August 2008 burnt down the ex-commissioner's home for his alleged involvement in ritual killings.
|
Article source