APC USA International Secretariat: Thank You For Joining The 3 - Day National Prayer For President Muhammadu Buhari & Nigeria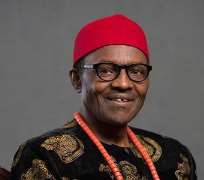 Today makes it a week (August 14th-16th, 2015), we asked Nigerians and well-wishers to join us in praying for President Muhammadu Buhari because not every Nigerian is pleased with the progress of his work. Already Mr. President has made remarkable progress in various sectors, improving and waxing stronger with your prayers and support.
Keep the prayers alive, as said "where two or more believers are gathered together irrespective of faith, the Omnipotent is present. APC USA International Secretariat requests consistent prayers for our beloved country, Nigeria.
We want to use this opportunity to remind National Assembly to inculcate National Day of Prayers in Nigeria, since we are known believers and prayerful country. Invariably, our ability to gather as Nigerians, worship and pray is one of the most valuable freedoms granted to us by freedom of religion. We reiterate and encourage everyone - regardless of religion, creed, ethnicity or political persuasion, - to exercise that freedom today as we pray for the safety of our service members, our State and our Nation.
Our advocates and ardent supports are in conformity with the proposed Nigeria National Prayer Day Bill and promised to follow through with necessary authorities for immediate consideration, that's another way out to buttress support for General Muhammadu Buhari at this critical point in our history. APC USA International Secretariat wishes to acknowledge with gratitude the tireless contribution of Prof Isa Odidi (Director-General, Buhari Diaspora Campaign Support Group Center), Barrister Solomon Dalung (Transition Planning Committee Member), Hon. Dr. Muhammad Sani Abdu (National Assembly), and Senator Binta Masi Garba (National Assembly).
Our focus remains, Nigeria must be a better and safe place to do everything humanly beneficial to its citizenry and communities we live in is good enough reason to improve our prayer life, status, system and the society at large. They need to give President Buhari a chance to make up our part, resolve our present and invest in our future should be the desire of every Nigerian, real Change is here and we should give it chance.
Following Nigerian history, leaders that have the interest of Nigeria at heart are either killed or over thronged, similarly, happened to President Buhari years ago, we sincerely ask Nigerians to keep prayers alive in avoidance and reoccurrences of ugly situations.
Thank you fellow Nigerians, United We Stand Divided We Fail!!!
Francis John
APC USA International Secretariat
[email protected] +1.816.359.8527