Rivers State PDP & Pastor Jerry Needam Caught In A Lie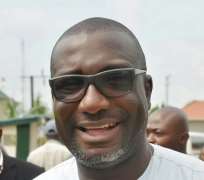 On Jerry Needam's stupid fabrication that Ammampour (SIC) Live report said the sum of over 757 million US Dollars was stacked by Amaechi in a foreign US Bancorp/Minnesota account; this is what CNN's Christiane Amanpour, had to say when we confronted her with this insane story:
@camanpour: "No news on Nigeria besides the interview granted to the President of Nigeria @MBuhari on the 21st July, 2015."
This is not only a confirmation of the desperate nature of PDP, it is also a pointer to the level of fraud that was perpetrated by their elements during the past administration. It is completely unimaginable that the spokesman of a political party's chairman will descend so low because he wants to rubbish the image of an innocent citizen. This is the height of irresponsibility, and a violation of the right of a honourable Nigerian.
I call on the relevant security agencies to investigate this matter, as I am sure that our law does not permit this type of rascality. I also call on the former governor of Rivers State, Rt. Hon. Chibuike Rotimi Amaechi, as well as the All Progressives Congress (APC), to immediately seek legal redress on this matter. It is indeed necessary to set a mark with this, so as to dissuade other wannabes from attempting this dishonourable path.
And to my fellow Rivers people and Nigerians at large, when next you see a press release from Jerry Needam or Opunabo Inko Tariah, do well to close your eyes, speedily turn over to the next page, and find something sensible to read. Don't dull your brains with their trash. These guys are a bunch of charlatans!
Solomon Okocha writes in from Abuja, Nigeria.