EL-rufai Commissions Nigeria Customs Hospital as Dikko Bows Out.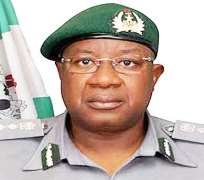 Kaduna State governor, Mallam Nasir El-rufai has describe Nigeria Custom Hospital located in Karu as one of the most equipped hospital in Nigeria and as one that can compete with others in the world
El-rufai stated this at official commissioning of second phase of Nigeria Customs hospital in Abuja
He commended Nigeria Customs Service for building a quality healthcare and promised that same standard will be reciprocated in Kaduna State.
According to him,"there are many organization in Nigeria that have the money to do this but lack the leadership,the focus and the Commitment,its commitment that it needed,Applaud the CGs and the Customs service,this is the best Hospital in the federal capital territory".
Earlier,The Outgoing Controller General of Customs,Dikko Inde Abdullahi in his Address said that the Commissioning is the is the second phase of medical centre which has been delivering quality health care services to the officers and their families.
"This complex will not cater for the need of Customs Officers and their families. the entire Karu community will benefit from its service and reach. from the level of sophistication of our equipment and the quality of our personnel, this facility will also serve as a reference hospital for the entire FCT community."
he express his gratitude to members of the Hospital Management Committee, the Contractors,Consultants and all those who toiled day and night to ensure the successful completion of the project.